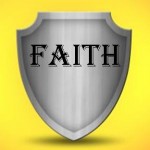 The best definition I've heard is that faith means "trusting all that God promises to be to us in Christ Jesus" (John Piper).
There are three parts:
Faith means trusting.
Many people think faith means agreeing to certain truths.  But saving faith means more.
We know this because James says demons agree to the truth of God (James 2:19); but it's obvious that they don't have saving faith.
What are the demons lacking?  Trust.  Demons agree that God exists, but they are not trusting God.  They are relying on Satan, not God, to secure a satisfying future for them.
So the question is not just — what truths do I agree with?  The question is — who or what am I trusting to secure a satisfying future for me?
Faith means trusting all that God promises to be to us.

Since faith means trusting God, we have to ask — trust God to do what?  The answer is: what God promises in His Word.
Throughout the Bible Abraham is held up as a model of true faith, and his faith focused on God´s promises (Rom 4:20-21).
So faith needs to focus on specific biblical promises, like God's promise to satisfy your heart in Christ (John 4:13-14), forgive your sins (1John 1:9), or give you wisdom (James 1:5).
This is crucial, because if you try to have faith without focusing on specific promises from God's Word, your faith will be weak or vague at best.
The Bible says the shield of faith will extinguish every flaming dart from the evil one (Eph 6:16).  But since faith focuses on God's promises, your shield will only be as big as the number of promises you know.
Why go into battle with a tiny shield?
Faith means trusting all that God promises to be to us in Christ Jesus.
We have all sinned against God and deserve punishment from Him.  So if we deserve punishment, how can God fulfill His amazing promises to us?
There's only one way — through Jesus' death on the Cross.  In astonishing love and mercy God made a way for our sins to be punished in Jesus as He died in our place on the Cross.
So the moment we turn from sin and trust Jesus as Savior, Lord, and Treasure — everything changes.
All our sins are punished in Jesus, so we no longer face punishment (Rom 8:1).
God forgives all our sins — past, present, and future (1 John 1:9).
God clothes us with Jesus' perfect righteousness — so even though we are not perfect He sees us as having Jesus' perfect moral goodness (2 Cor 5:21).
That's why Paul says that all of God's promises are "yes" for us in Christ Jesus (2 Cor 1:20 — the "him" in this verse is Jesus Christ).
So it makes no difference how unspiritual you feel, how far you are from God, or how badly you have sinned.
When you turn and trust Jesus you can be assured that God passionately loves you and will fulfill all His promises to you — not because of how good you are but because of what Jesus did.
So that's the biblical definition of faith — trusting all that God promises to be to me in Christ Jesus.
The next question is — What are the promises of God?
Thoughts?  Comments?  Feedback?

I'd love to hear them.  Leave a reply below — thanks.
If you know someone who would be helped by reading this, email it to them using the "Share" button below, or use the other buttons to share it on your favorite social media.
If you would like to interact with others who are seeking to live by faith in Christ, visit our Forums page.
If you would like to receive a Saturday email summarizing the week's posts — subscribe here.  (I will only use your email address for Living By Faith Blog communications, and you can easily unsubscribe at any time.)
(Picture by iprole used with permission of stock.xchng.)