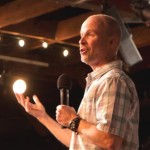 I thought it would be helpful to give some examples of my preaching, to help you decide if I am a good fit for speaking at your church or conference.
My longing is to preach in a way that is biblical, passionate, clear, and persuasive.  So here are three sermons which I believe reflect these aims.
To listen, click on the triangle at the left hand side of the black bar —

Hezekiah: Healed, But Boastful (Isaiah 38-39)
 (this sermon was featured on the popular "Preaching Today" website, as 
you can see here
)  
God Invites Comparison (Isaiah 41)
The Danger Of Dull Hearing (Hebrews 5:11-14)
And here are two 4 to 5-minute YouTube videos of me teaching —
httpv://www.youtube.com/watch?v=H1RTNsmcLQk
If you want to hear more of my sermons, you can access the sermon archives of Grace Church Abu Dhabi here.