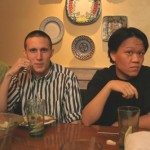 What Is a Christ-Centered Community?
It is a group of people —
— who passionately follow Christ together (2 Timothy 2:22),
— who deeply love each other from the heart (1 Peter 1:22),
— who regularly encourage each other in faith (Hebrews 3:13),
— who know each other's joys and sorrows (1 Corinthians 12:26),
— who see that each member has an crucial part (Ephesians 4:16),
— who work together to save the lost (Philippians 1:27),
— and who humbly, lovingly, and boldly speak the truth of God's word to each other (Ephesians 4:15).
Why Is Community Important?
Recently I have been meditating on John 17, and have been struck by how Jesus says God will use our unity to persuade people of the truth of Christ.
The glory that you have given me I have given to them, that they may be one even as we are one. (John 17:22)
The point is not that all believers be part of the same organization. It's that the glory of Christ can give us a love for each other that overcomes selfishness, racism, pride, busyness, hurts, timidity, and cliquish-ness.
And when unbelievers see that kind of loving unity they will see the reality of Christ.
So what can a small group leader do to help his group experience this kind of Christ-centered community?  Here are eight suggestions:
1. Pray for it earnestly.
This kind of loving unity only comes by the supernatural work of the Spirit. So pray, pray, and then pray some more.
2. Teach it from God's word.
Use some of the passages I listed above.
And help your people see from God's word that church is not just a meeting you attend — it is a group of believers you love.
Help them understand that they can attend church services without experiencing church community.
3. Teach your group how to live by faith.
We cannot just choose to love other people, because our will-power is not strong enough to make us consistently loving.
What we need is the Spirit's work of filling our hearts with satisfaction in Christ — which only comes by faith (Galatians 3:5; Galatians 5:6).
So teach your group how to live by faith in Jesus Christ.  As they do they will be so filled with Christ that they will deeply love and care for each other.
4. Pursue this yourself.
Your group will learn from watching you.
So pray that God will fill you with love for each one in your group.
Then reach out to your group members during the week by having some of them over for dinner, praying with and for them, sharing your burdens and joys, and asking about theirs, and serving them in tangible ways.
5. Share this as part of your group's vision each week.
I find it helpful to take two or three minutes at each small group meeting to share the vision of the small group — and to explain that Christ-centered community is a crucial part of this vision.
Don't share the same way each week.  But ask God to give you fresh, creative ways to cast a vision for living in Christ-centered community.
6. Encourage connections during the week.
You could encourage a spiritually mature brother to reach out to a young man who just visited the group
Or even better, take the mature brother with you to reach out to the young man, so the mature brother can learn by watching you.
Lead the men in doing some man-type activities to which they can invite their unbelieving friends, and encourage the women to do the same.
And initiate activities the group can do outside of the regular weekly meeting
7. Ask heart-oriented questions.
Too much conversation never gets past the "how's work?" and "did you see the game last night?"
So to take conversations deeper, I find it helpful to ask "what has the Holy Spirit been doing in your heart recently?"
This immediately puts the focus on our hearts, it creates the possibility of deep conversation, and it stirs people to be more hungry for the Spirit's work.
8. Talk about how eternal security is a group effort.
I believe in eternal security — that everyone who is born again will be kept in the faith and will enter heaven.
But one of the ways God keeps us in the faith is through our fellowship with each other.
This is taught in passages like James 5:19-20 and Hebrews 3:12-14.
It will be powerful when your group sees that community isn't important just because we like having friends. It's important because we like having our friends in heaven.
Questions? Comments?
I'd love to hear them, although I might not be able to respond.  Leave a reply below —  thanks.
If you know someone this would help, email it to them using the "share" button below.  Or use the other buttons to share it on your favorite social media.
If you would like to interact with others who are seeking to live by faith in Christ, visit our Forums page.
If you would like to receive a Saturday email summarizing the week's posts — go to the top right of this page, fill in your email address, and click the "Submit" button.  (I will only use your email address for Living By Faith Blog communications, and you can easily unsubscribe at any time.)
And here are some related posts you might find helpful –
(Picture is from every stock photo.com by Tostie14.)