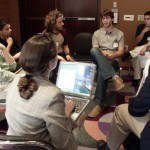 Danger from the Tempter
Paul was concerned about the Thessalonians because he knew the Tempter had been attacking their faith (1 Thessalonians 3:5).
The same is true with every member of your home group.  Every day Satan is taking shots at their faith.
That is why your small group should focus on helping each other grow in faith.  But how can we do that?
Here are steps I find helpful –
Explain What Faith Is
I have used Romans 4:18-21 to help group members understand that faith means trusting all that God promises to be to us in Christ.
Point out how often the word "promise" is used in this passage.  Talk about how God has given us wonderful promises in his word.
Talk about the strength that come when we find promises in the word that speak directly to our situation, and give an example of this from your own life.
For example, yesterday morning I woke up feeling dull and far from God, even though I was supposed to preach in two church services.  But I was encouraged by God's promise to revive the spirits of the lowly and contrite (Isaiah 57:15).
Have Someone Share a Problem
Then have someone share a problem, a worry, or a temptation they are facing.
They don't have to give all the details.  But they do need to share enough so the group can help them find relevant biblical promises.
So let's say someone in the group shares that they are fearful that they will not get promoted at work.
What Does God Promise?
Remind the group that our aim is to strengthen this person's faith.
Explain that since faith means trusting God's promises, we need to help them find promises in God's word that apply to their problem.
So ask the group: "What does God promise to do for us when we long for a promotion and are afraid we won't get it?"
Then let the group start thumbing through their Bibles to find promises.
Straight from the Bible
At this point, someone might share a promise like —
"It will all be fine," or
"God's got this," or
"It will all work out."
But these promises are not helpful because –
they aren't explicitly from the Bible,
they are too vague to be helpful,
so they lack spiritual power,
and they won't strengthen anyone's faith.
So be sure the promises shared are straight from the Bible.
What Does This Promise Mean?
As soon as someone shares a promise from the Bible that applies to the situation, talk about what that promise means.
Ask: "What is God saying he will do for us in this promise?"
For example, Psalm 84:11 says: "no good thing does he withhold from those who walk uprightly."
To be upright doesn't mean perfection.  It means we are looking to God's mercy by faith in Christ.  So God promises that if we are looking to him by faith, then he will give us everything that would be good for us.
Ask if this means God promises to give this person the promotion.  Talk about how sometimes God gives what we want, and sometimes he does not.  Maybe use Paul's thorn in the flesh as an example (2 Corinthians 12:8-9).
Then ask: so what does Psalm 84:11 mean?  The crucial issue is: what does the psalmist mean by "good thing"?
Psalm 73:25-28 teaches that our greatest good is God's nearness, because he alone can completely satisfy our hearts.
So when Psalm 84:11 promises that God will withhold no good thing, it means that God will always give us whatever will bring us the most of his all-satisfying nearness.
What It Would Mean to Trust This Promise?
Ask the group what it would mean to trust his promise, and how we could tell if we were or were not trusting it.
Explain that trusting this promise means believing that God's nearness really is our greatest good, and that God will always give us whatever will bring us the greatest nearness to him.
So help this person understand that if he fears not getting the promotion, then he is not believing that God's nearness is his all-satisfying good.  He is probably looking to the promotion for his joy more than he's looking to God.
So this person needs to fight the fight of faith by confessing his unbelief, being assured of God's forgiveness through Christ, praying for the Spirit's heart-changing work, and meditating on the truth of who God is until he receives a fresh taste of the joy of God's nearness.
When that happens he will no longer be afraid, because he will know that God is his all-satisfying joy, and that whatever God chooses to do will bring him the greatest joy of more nearness to God.
Be sure to talk also about how he should also pray for the promotion, while keeping his heart centered on God, and not the promotion.
Prayer and Encouragement
Take time to pray for him – that God will strengthen his faith, satisfy him with his glory, and free him from fear.
Also pray that God would provide the promotion.
And encourage him to keep seeking his joy in the Lord, and to trust that whatever God does, it will be exactly what he needs to have his heart fully satisfied in the Lord.
When you are finished praying, remind the group that this is what it means to live by faith.  Urge them to find promises from God's word whenever they are tempted, or fearful, or discouraged.
As they do this, they will grow strong in faith, the Tempter will be overcome, and Christ will be glorified.
Questions?  Comments?
I'd love to hear them, although I might not be able to respond.  Leave a reply below —  thanks.
If you know someone this would help, email it to them using the "share" button below.  Or use the other buttons to share it on your favorite social media.
If you would like to interact with others who are seeking to live by faith in Christ, visit our Forums page.
If you would like to receive a Saturday email summarizing the week's posts — go to the top right of this page, fill in your email address, and click the "Submit" button.  (I will only use your email address for Living By Faith Blog communications, and you can easily unsubscribe at any time.)
And here are some related posts you might find helpful –
(Picture found on everystockphoto.com by peyton chung.)