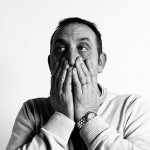 Overwhelming Fear
A while back I had some routine medical tests which had always come back with encouraging news.
But this time, for some reason, I was concerned.
Then, as days went by without hearing from the doctor, my concern became fear.
I wondered if it was taking longer because the results were so bad that they needed to run the tests again.  Or that they couldn't make up their minds about who should call and break the bad news to me.
And as more days went by, my fear became overwhelming.  It was so powerful and preoccupying that it felt demonic.  Really.
What to Do?
Many people battle fear by –
Trying not to think about it,
Distracting themselves with work or entertainment,
Seeking comforting words from others,
Trying to stay positive.
But these avoid the root problem, which is that fear means I am not trusting God.
Not Trusting God?
Yes, not trusting God.  You can see that in the following Scriptures –
Psalm 56:3-4 – When I am afraid, I put my trust in you. In God, whose word I praise, in God I trust; I shall not be afraid.
Isaiah 12:2 — Behold, God is my salvation; I will trust, and will not be afraid.
Mark 4:40 He said to them, "Why are you so afraid? Have you still no faith?"
Hebrews 11:23 — By faith Moses, when he was born, was hidden for three months by his parents … and they were not afraid of the king's edict.
Heart Diagnosis
My fear showed that I had a bigger problem than delayed medical tests.
My bigger problem was my faith; I was not trusting God.
So I took some time to pray.  I asked God to help me see what was going on in my heart.
And I asked myself: what am I not believing about God?
What Am I Not Believing?
And as I prayed, the Father showed me that I was not believing –
That in Christ, God is my all-satisfying Treasure (Philippians 3:8);
That God loves me, and ordains every detail of my life to bring me the greatest joy in him (Romans 5:8; Romans 8:32; Genesis 50:20);
That if my tests show bad news, then God will give me all the grace, wisdom, strength, and finances we need to have the greatest joy in him (2 Corinthians 9:8: James 1:5: Philippians 4:13; Matthew 6:33).
That if I have a serious medical problem then this is part of God's plan for how I can have the greatest joy in him (Jeremiah 29:11; Jeremiah 32:40; Romans 8:28).
That list might puzzle you.  You might be shocked to think that I didn't believe those things.
But think about it.  If I really believed that God is my all satisfying treasure, that he ordains every detail of my life to bring me the greatest joy in him, that he will give me everything I need to have the greatest joy in him — would I fear bad news from medical tests?
No.  So my fear showed that I was not believing these truths about God.
What I Was Believing
As I prayed about what I was not believing, God also showed me what lies I was believing.
I was believing —
That God was not in control of my health and these medical tests.
That if trials came, God would not give me all the grace, wisdom, strength, and finances I needed.
That Christ was not enough – that I needed health and earthly life to be completely happy.
Because I believed those lies, I was convinced that bad medical news would ruin my future.
And that's why I was overwhelmed with fear.
Good News
So what could I do?  Since fear is caused by unbelief, I needed to strengthen my faith.
And God gives good news to those who want to strengthen their faith.
The story of the man who prays "I believe; help my unbelief" (Mark 9:24) shows that Jesus welcomes, and answers, this prayer.
And Paul's statement that "faith comes from hearing" (Romans 10:17) means that when we prayerfully hear God's word, God will strengthen our faith.
The Fight of Faith
So I turned to Jesus just as I was, with my fearful and unbelieving heart.  I asked him to forgive me, and to help me.
Then I set my heart on the promises I had stopped believing, and started praying over them and preaching them to myself.
As I did that, I began to believe that God loved me (Romans 8:32).  I started to trust God's wise and loving sovereignty over every detail of my life (Romans 8:28-30 and 2 Corinthians 4:16-18).
I once again saw saw and felt the glory of Christ in his majesty, power, wisdom, and love.  The beauty of Christ strengthened my heart, filled me with joy, and destroyed my fear.
This was not because I thought the medical tests would be fine.  It was because I knew that no matter what happened with the tests, I would always have Christ.  Now and forever.
One More Thing
A couple days later, I received an email from my doctor.
Tests showed that everything was fine.
Questions?  Comments?
I'd love to hear them, although I might not be able to respond.  Leave a reply below — thanks.
If you know someone this would help, email it to them using the "share" button below.  Or use the other buttons to share it on your favorite social media.
If you would like to interact with others who are seeking to live by faith in Christ, visit our Forums page.
If you would like to receive a Saturday email summarizing the week's posts — go to the top right of this page, fill in your email address, and click the "Submit" button.  (I will only use your email address for Living By Faith Blog communications, and you can easily unsubscribe at any time.)
And here are some related posts you might find helpful –
(Picture is from compfight.com by Bourguiboeuf.)