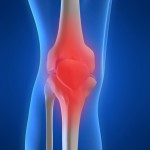 Knee Problems
Years ago I hurt my left knee, and had surgery which took out most of the cartilage.
Although this meant I had to stop running, I was thankful that I could still ride my mountain-bike.
But now I'm wondering if even my mountain-biking has to stop.  Here's why.
My knee felt fine during our June mission trip, including one hike up what seemed like thousands of steps to a mountaintop viewpoint.
So when we got back home, I had a crazy idea about hiking to the top of a nearby mountain.  Big mistake.
Now my knee is hurting.  Bad.  And it's been bad for a couple weeks.
Surprised by Trials
My knee pain made me think about trials.  Many Christians believe that because God loves them, he won't bring them trials.  Which is why they are surprised when trials come.
But recently I've been studying 2 Corinthians 4:7-12.  And yesterday I saw that trials are essential if we are going to display Christ's glory.
That's what Paul says –
But we have this treasure [of Christ's glory] in jars of clay, to show that the surpassing power belongs to God and not to us.(2 Corinthians 4:7)
When we are afflicted, persecuted, and struck down – but continue to love, rejoice, and persevere in Christ – it shows there is something fueling us besides earthly comfort and ease.  It shows that God's glory in Christ is an all-satisfying treasure.
That's one reason God lovingly brings trials into our lives.  And Paul says God is always doing this —
For we who live are ALWAYS being given over to death for Jesus' sake, so that the life of Jesus also may be manifested in our mortal flesh. (2 Corinthians 7:11, my emphasis)
"We who live" is probably a reference to the apostles.  But, as Paul Barnett says in his commentary, this is "applicable to all believers" (The Second Epistle to the Corinthians, p. 238.6).
So we should not be surprised by trials.  Since our greatest joy is displaying Christ's glory, and one of the clearest ways we display Christ's glory is through trials, the God who loves us will always be bringing us trials.
Another Reason
But that's not the only reason God brings us trials.  Paul mentions another reason in 2 Corinthians 4:17-18 –
For this light momentary affliction is preparing for us an eternal weight of glory beyond all comparison, as we look not to the things that are seen but to the things that are unseen. For the things that are seen are transient, but the things that are unseen are eternal.
God's plan is to bring us trials that will produce for us more joy in Christ's glory forever.  But this does not happen automatically.
It only happens as we let trials remind us that seen things like health and wealth are temporary, so we then set our hearts all the more on the unseen things like Jesus and his glory — which are eternal.
As we do this, our trials will prepare for us even more joy in Jesus' glory than we would have had without the trials.
Don't Be Surprised
So when trials come, don't be surprised, and don't question whether God loves you.
God brings you trials because he loves you, since trials will bring you the greatest joy of beholding and displaying Christ's glory.
So should we ever ask God to remove trials?  Yes.  Just like Paul, who prayed earnestly three times that his thorn in the flesh would be removed (2 Corinthians 12:8).  And I am praying that God will heal my knee.
When we do ask him to remove trials, much of the time he will (for example, see 2 Kings 20:1-6; Luke 5:12-13; Acts 12:5-7).
But much of the time he won't (for example, see 2 Corinthians 12:8-9).  This is not because he has stopped loving us.  It's because he does love us, and because in this case it's through the trial that he will give us the greatest joy of all – displaying and beholding Christ's glory.
Trials Are a Gift
We tend to think of trials only as the loss of something – like a job, or a friendship, or mountain-biking, in my case.
And trials do bring loss.  Loss that hurts.  Loss that God will comfort with outpourings of his love and strength and peace (2 Corinthians 1:3-4).
But in God's loving plan, trials do not just bring loss.  They also bring gain – the far greater gain of more joy in beholding and displaying Christ's glory.
So don't be surprised when a loving God gives you trials, because every trial is a gift of more joy in Christ.
And be sure to open the gift.
Questions?  Comments?
I'd love to hear them.  Leave a reply below — thanks.
If you know someone this would help, email it to them using the "share" button below.  Or use the other buttons to share it on your favorite social media.
If you would like to interact with others who are seeking to live by faith in Christ, visit our Forums page.
If you would like to receive a Saturday email summarizing the week's posts — go to the top right of this page, fill in your email address, and click the "Submit" button.  (I will only use your email address for Living By Faith Blog communications, and you can easily unsubscribe at any time.)
And here are some related posts you might find helpful –
(Picture is from Microsoft Publisher Clipart.)