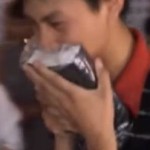 Their First Bibles
Last week my wife and I watched a video of Chinese believers receiving their very first Bibles.
It was deeply moving to see their excitement, tears of joy, and how tenderly they held their Bibles.
It was a beautiful display of the treasure we have in God's Word.
What We Have
Think of what God has given us in the Bible —
We have the actual words of the God of the Universe —
All Scripture is breathed out by God (2 Timothy 3:16)
We have wisdom which brings us salvation —
… the sacred writings, which are able to make you wise for salvation through faith in Christ Jesus. (2 Timothy 3:15)
We have perfect, flawless, truth —
Sanctify them in the truth; your word is truth (John 17:5)
We have truth we can count on forever —
The grass withers, the flower fades, but the word of our God will stand forever. (Isaiah 40:8)
We have light which helps us see —
Your word is a lamp to my feet and a light to my path. (Psalm 119:105)
We have the means by which God revives our souls —
The law of the Lord is perfect, reviving the soul (Psalm 19:7)
We have truth which brings encouragement and hope —
… that through the encouragement of the Scriptures we might have hope. (Romans 15:4)
We have truth which brings us joy — 
The precepts of the LORD are right, rejoicing the heart (Psalm 19:8)
Loving God's Word
When we see what we have in God's Word, we will respond like the psalmist did —  

 I will delight in your statutes. (Psalm 119:16)
I find my delight in your commandments, which I love. (Psalm 119:47)
The law of your mouth is better to me than thousands of gold and silver pieces. (Psalm 119:72)
Oh how I love your law! It is my meditation all the day. (Psalm 119:97)
Therefore I love your commandments above gold, above fine gold. (Psalm 119:127)
That's why these Chinese believers had such joy in receiving their Bibles.
Watch This Video
Here is the video of Chinese believers receiving their first Bible.  They are speaking Chinese, so to make this more meaningful to you as you watch, I asked a friend to translate.
As the Bibles are being distributed what they are saying is —
So blessed.  So blessed.  Thank God.  Thank the Lord.
How precious!  We desperately need it.
And the girl who spoke for a longer time said —
When I held this book, it was as if I saw the brothers and sisters who helped us.  They used their blood and tears to bring the books to us.
And then someone else said,
This is what our church needs most now.  This is most needed.
Here is the video —
Comments?  Feedback?
I'd love to hear them.  Leave a reply below — thanks.
If you know someone this would help, email it to them using the "share" button below.  Or use the other buttons to share it on your favorite social media.
If you would like to interact with others who are seeking to live by faith in Christ, visit our Forums page.
If you would like to receive a Saturday email summarizing the week's posts — go to the top right of this page, fill in your email address, and click the "Submit" button.  (I will only use your email address for Living By Faith Blog communications, and you can easily unsubscribe at any time.)
And here are some related posts you might find helpful –