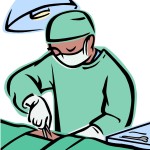 My Affliction
I recently had a minor stroke, which affected some of my peripheral vision.
I was encouraged by the story of Job, who blessed the name of the Lord, even though God had taken Job's donkeys, sheep, camels, and children (Job 1:21-22).
How — after losing all this — could Job bless God?
It's because Job understood that God only takes things from us (like children or peripheral vision) in order to give us something infinitely more satisfying (a greater experience of God's glory now and forever).
I see that taught in passages like 2 Corinthians 4:16-18 and 2 Corinthians 12:9-10, and that truth has brought me much comfort.
Another Encouraging Verse
Then, as I was going through my stack of encouraging verses, I came upon Lamentations 3:31-33 —
For the Lord will not cast off forever, but, though he cause grief, he will have compassion according to the abundance of his steadfast love; for he does not willingly afflict or grieve the children of men.
Jeremiah agrees with Job in saying that God does cause grief; God does afflict us with trials.
But Jeremiah sees how that could be misunderstood.  We could wrongly think that God somehow finds pleasure in causing us grief; we could wrongly believe that he enjoys taking things from us.
So, to help us avoid this misunderstanding,  Jeremiah says that God "does not afflict willingly."
What Does That Mean?
We could think it means someone else has more power than God, and forces God to afflict us even though God doesn't want to.
But that can't be right, because no one has more power than God.  That's why God is called "the Almighty" (Revelation 1:8), and why Psalm 115:3 says God "does all that he pleases."
No force outside of God can make God do something against his will.
So what does it mean that God does not afflict us willingly?
From The Heart
I checked the Hebrew, and the literal translation is that God does not afflict us "from the heart."  To do something "from the heart" means you do it with delight, enthusiasm, and passion.
So when God took from Job his oxen, donkeys, camels, sheep, servants, and all his children, God did not delight in the loss he was bringing Job.  Rather, God's delight was in the great good he was going to give Job through this loss.
Or to use Jeremiah's words, God does not delight in causing grief; he delights in the compassion and steadfast love that will come to us through that grief.
Think of a surgeon.  He does cut a patient open.  But he does not delight in the cutting.  He does not do this willingly — from the heart.
The only reason he cuts someone is because this will bring them healing.  What the surgeon is passionate about is the healing, not the cutting.
Same with God.  He does not afflict us willingly, from the heart.  The only reason he afflicts us is because this will bring us even more joy in Christ.  It's not our loss that God passionately pursues; it's our everlasting, all-satisfying joy in Christ.
See God Accurately
So if you are going through trials, be sure you see God accurately.
Yes, God brings trials.  Yes, God takes from us.  But that does not mean he is unloving.  That does not mean he delights in causing us pain.
In fact, he weeps with us in our pain, like he wept with Mary and Martha over the death of their brother (John 11:35).
But he does not just weep.  He also rejoices at the great good that will be ours through this pain.  He delights in the increased joy this trial will bring us in Christ — a joy that will satisfy us so deeply that we will bow before him and thank him for every trial.
So share your sorrows with God.  Sanctify your sorrows.  Feel his compassion for you in your grief.
But don't stop there.  Don't grieve as those without hope (1 Thessalonians 4:13).
Fight the fight of faith until you see and feel that his purpose in this trial is to bring you even more joy in his holy Son — now and forever.
And then press in to receive even more of that all-satisfying joy.

Questions?  Comments?  Feedback?
I'd love to hear them.  Leave a reply below — thanks.
If you know someone this would help, email it to them using the "share" button below.  Or use the other buttons to share it on your favorite social media.
If you would like to interact with others who are seeking to live by faith in Christ, visit our Forums page.
If you would like to receive a Saturday email summarizing the week's posts — go to the top right of this page, fill in your email address, and click the "Submit" button.  (I will only use your email address for Living By Faith Blog communications, and you can easily unsubscribe at any time.)
And here are some related posts you might find helpful –
(Picture is from Microsoft Publisher Clipart.)