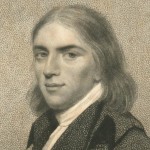 Hunger For God
It's easy for our devotional lives to revert to plodding through scheduled chapters in the Bible, and mechanically praying through a list of requests.
Don't you hate that?
So what can we do to keep this from happening?
The Word Of God
One step is to remember what God says in his Word about what we can experience in Christ —
"Whoever believes in me … out of his heart will flow rivers of living water" (John 7:37-38).  Rivers.
"[I pray that you may] know the love of Christ which surpasses knowledge, that you maybe filled up with all the fullness of God" (Ephesians 3:19).  All the fullness.
"You have put more joy in my heart than they have when their grain and wine abound" (Psalm 4:7).  More than they have.

"And there is nothing on earth that I desire besides you" ( Psalm 73:25).  Nothing.
Christian Biography
Another step is to read what wise, seasoned, Bible-centered men and women have experienced of God.  That's what helped me yesterday.
While waiting for my dentist appointment I read about Samuel Pearce, who was an 18th-century English pastor.
Pearce was was devoted to God's Word, passionate for evangelism and missions, and hungry for God and his glory.
A Day Of Seeking God
On October 31, 1794 Pearce spent a day in prayer and fasting to seek God's will about going to India as a missionary.
He started the day by remembering "God's promises to those who seek him."  He saw that no one "can ever seek his face in vain."
Next, he prayed for "the assistance of the Holy Spirit … so that I might enjoy the spirit and power of prayer."
After that he meditated on 2 Corinthians 1:17, noting how God-centered, serious, and deliberate Paul was in his planning.
Then he read how David Brainerd sought God's will concerning a call to foreign missions, and he joined Brainerd in being "quite resigned to God respecting my future."
And then he read 2 Corinthians chapters 2 through 6.  He wrote in his journal that he felt peace, "but not much joy."
He felt "no strength to wrestle [in prayer], nor power with God at all."  As he put it — "I seemed as one desolate and forsaken."
But he went ahead and prayed anyway, for himself, the Missions Organization, the missionaries, Hindu men and women who recently had come to faith, his church, his family, and his ministry.
And yet, as he prayed, he said that "all was dullness."  But then —
The Waters Began To Flow
Here's how he described it —
I was about to conclude with a lamentation over the hardness of my heart, when on a sudden it pleased God to smite the rock with the rod of his Spirit, and immediately the waters began to flow.
Oh what a heavenly, glorious, melting power was it!
My eyes, almost closed with weeping, hardly suffer me to write.  I feel it over again.  Oh what a view of the love of a crucified Redeemer did I enjoy!  The attractions of his cross, how powerful!
I was as a giant refreshed with new wine … like Mary at the Master's feet, weeping for tenderness of soul; like a little child, for submission to my heavenly Father's will; and like Paul, for a victory over all self-love, and creature love, and fear of man, when these things stand in the way of my duty.
The interest that Christ took in the redemption of the heathen, … the worth of the soul, and the plain command of Jesus Christ, together with an irresistible drawing of soul, which by far exceeded any thing I ever felt before … all compelled me to vow that I would, by his leave, serve him among the heathen.
The Bible lying open before me, (upon my knees,) many passages caught my eye and confirmed the purposes of my heart.
If ever in my life I knew anything of the influence of the Holy Spirit, I did at this time.  I was swallowed up in God.
Hunger, fullness, cold, heat, friends, and enemies, all seemed nothing before God.  I was in a new world.  All was delightful; for Christ was all, and in all.
Many times I concluded prayer, but, when rising from my knees, communion with God was so desirable that I was sweetly drawn to it again, till my strength was almost exhausted.  (From The Complete Works Of Andrew Fuller, 3:390f.)
Reflections
He started by reminding himself of God's promises to reward those who seek him.  Use God's promises.
He knew he could not make this happen by his own will-power.  So he asked for the Spirit's help.  Pray earnestly.

Even though at first he felt spiritually "desolate and forsaken," he persevered, and God met him.  Don't give up.
This involved feelings.  Powerful feelings.  But feelings don't come out of nowhere.  His Bible was open on his knees.  The feelings came as the Spirit helped him see "the love of a crucified Redeemer."  Open your Bible.
This is a beautiful description of what the Bible means when it talks about experiencing rivers of living water, being filled up to all the fullness of God, and desiring nothing else besides God.  It's biblical.  It's promised.  Seek him.
Comments?  Feedback?
I'd love to hear them.  Leave a reply below — thanks.
If you know someone this would help, email it to them using the "share" button below.  Or use the other buttons to share it on your favorite social media.
If you would like to interact with others who are seeking to live by faith in Christ, visit our Forums page.
If you would like to receive a Saturday email summarizing the week's posts — subscribe here.  (I will only use your email address for Living By Faith Blog communications, and you can easily unsubscribe at any time.)
And here are some related posts you might find helpful –