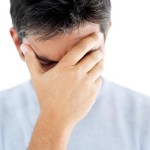 Insecure
Right now I'm feeling insecure — queasy, nervous, unsure, and shaky.
Maybe that's how you are feeling, too.
Maybe for you it's the threat of layoffs.  Or you've had medical tests, but have not yet heard the results.  Or you have submitted college applications, and are waiting for answers.
So what's going on when we feel insecure?  What causes insecurity, and how can we overcome it?
What Does The Bible Say About Insecurity?
What helps me understand my insecurity is what Isaiah says in Isaiah 26:3 —
You keep him in perfect peace whose mind is stayed on you, because he trusts in you.
When I'm feeling insecure, I'm not experiencing perfect peace.  Far from it.
But Isaiah says God will keep me in perfect peace, when my mind is stayed on him.  The Hebrew word "stayed" has the idea of resting on God, leaning on God, relying on God.  Or as Isaiah sums it up in the next phrase — it means trusting in God.
So — if I'm doing these things, God will keep me in perfect peace.
Which means that if I am lacking peace and feeling insecure, it's because my mind is not stayed on him, resting on him, leaning on him, or trusting in him.
Search Your Heart
So ask yourself — what is my mind stayed on?  What am I trusting for my future?
If you are feeling insecure, it's because you are trusting something for your future instead of God — something you fear might fail you —
You are trusting job security, but fear you might get laid off.
You are trusting health, but fear you might have cancer.
You are trusting a future at Yale, but fear you might not be accepted.
As I search my own heart, I can see exactly what I am trusting for my future instead of God.  It is something I think might fail me; which is why I feel insecure.
So How Can We Fight Insecurity?
It's not complicated.  We need to turn from whatever we have been trusting for our future, and trust God for our future.
But what does it mean to trust God for our future?  Does it mean trusting God to give me job security, good health, or college acceptance?
No.  God might choose to give those.  But in his love and wisdom he might not.
Like Job said after the devastating loss of his oxen, donkeys, sheep, camels, servants, and all his children —
The Lord gave, and the Lord has taken away, blessed be the name of the Lord. (Job 1:21)
So if trusting God for my future does not mean trusting God to give me these things — what does it mean?
Trusting God For Your Future
It means —
Trusting God to satisfy me fully in himself (not in job security, health, or college acceptance) (Psalm 16:11).
Trusting that if God allows unemployment, illness, or lack of college acceptance, his purpose is to bring me even more joy in his glory (2 Corinthians 4:17).
Trusting God to provide everything else I need during these trials so I can most glorify and enjoy him forever (Philippians 4:19)
When we read over these, we can see the root problem —
We've been trusting employment, health, or college acceptance to satisfy our hearts more than God himself.
Think about it like this —
If your greatest joy truly was Jesus Christ, and you knew God would only allow job or health or college-acceptance problems to bring you more joy in him, and that with these problems he would provide everything you need to most glorify and enjoy him forever — would you feel insecure?
Not at all.
But that shows why I am feeling insecure — it's because I'm not trusting these truths about God.  So what can I do?
Here are the steps I'm taking.  Join me —
I'm Turning To Jesus Christ Just As I Am
Yes, there is something I'm trusting to satisfy me more than God himself.
But I don't need to conquer this before turning to Christ.  I can only conquer this by turning to Christ (Mark 2:17).
So I'm turning to him right now, just as I am.
Confess My Unbelief As Sin, And Be Assured Of His Forgiveness
It's sin to trust that anything else can satisfy me more than Jesus Christ.
So I need to confess my sin to him, see how I have dishonored him, and trust his death to pay for all my guilt (Psalm 32:1).
Ask For His Power to Change My Heart
I could try to feel more secure by thinking of why I probably won't get laid-off, or that the odds of cancer are slight, or that my GPA is probably good enough to get me into Yale.
But none of those get to the root issue — which is that I am seeking my satisfaction in something other than Jesus Christ.
But that can't be changed by my own thinking.  That can only be changed by the power of the Spirit.
So I am praying earnestly for the power of the Spirit to change my heart (Psalm 51:10).
Set My Heart Upon His Promises
The Spirit works through the Word of God (Galatians 3:5; Ephesians 6:17).
So I am finding promises in God's Word which show that —
Christ is all-satisfying (like Matthew 13:44; Philippians 3:8; 1 Peter 1:8),
every trial will bring me more of him (James 1:4; 1 Peter 1:7; Hebrews 12:10),
and that he will provide everything else during trials so I can glory and enjoy him forever (2 Corinthians 9:8; James 1:5; Philippians 4:13; Matthew 6:33).
Pray Over God's Promises Until The Spirit Changes My Heart
That's what I'm going to do right now.  Join me.
Let's prayerfully look to Jesus Christ as revealed in God's Word.  Let's fight the fight of faith until the Spirit changes our hearts so we fully trust him.
Perfect peace awaits.
Comments?  Feedback?
I'd love to hear them.  Leave a reply below — thanks.
If you know someone this would help, email it to them using the "share" button below.  Or use the other buttons to share it on your favorite social media.
If you would like to interact with others who are seeking to live by faith in Christ, visit our Forums page.
If you would like to receive a Saturday email summarizing the week's posts — subscribe here.  (I will only use your email address for Living By Faith Blog communications, and you can easily unsubscribe at any time.)
And here are some related posts you might find helpful –
(Picture is from Microsoft Publisher Clipart.)