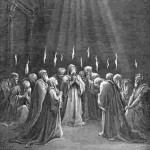 What is the Baptism of the Holy Spirit?

The Pentecostal answer is that the baptism of the Spirit is a second experience after conversion that's marked by speaking in tongues.
Those who are not Pentecostal disagree, because the baptism of the Spirit is promised at conversion, and because not every believer receives the gift of tongues (I give reasons for these points below).
So what then is the baptism of the Spirit?  Here's part one of my explanation.  Feel free to share your thoughts at the end of this post, or on the Forum page dealing with the Holy Spirit.
Definitions

Here's my understanding —
The baptism of the Holy Spirit is a supernatural experience occurring at conversion in which the Holy Spirit enables us to see and feel Jesus' glory so much that our hearts are overflowingly satisfied in Him.
By "supernatural" I mean it's not something we can produce by our own efforts — it's only produced in us by the Holy Spirit.
And by "experience" I mean it's more than just seeing truth about Jesus (as important as that is).  It's a Spirit-birthed seeing and feeling of the all-satisfying glory of Jesus Christ.
Here are the Scriptures that have shaped my thinking —
John the Baptist promised that Jesus would baptize people with the Holy Spirit.
I baptized you with water, but he will baptize you with the Holy Spirit. (Mark 1:8)
This is John's summary of what the Messiah would do.  So everyone who believed John's message would have looked forward to being baptized by Jesus with the Holy Spirit.
Jesus promised that everyone who believes in him would have his heart-thirsts quenched by the living water of the Spirit.
If anyone thirsts, let him come to me and drink.  Whoever believes in me, as the Scripture has said, 'Out of his heart will flow rivers of living water.' (John 7:37-38)
What Jesus promises is an experience.  Just as we feel physical thirsts, so we will feel the living water filling and overflowing our heart-thirsts — our emotional thirsts.  It's not just that we believe our hearts are overflowing.  Jesus promises we will feel and experience this living water overflowing our hearts.
And Jesus gives this promise to everyone who believes in him.  But those who were listening to him on that day, and who beleived in him, had to wait to experience this, because —
Jesus' promise would not be fulfilled until he was crucified and risen.

John explains this in the next verse —
Now this he said about the Spirit, whom those who believed in him were to receive, for as yet the Spirit had not been given, because Jesus was not yet glorified. (John 7:39)
All those who believed in Jesus would receive this outpouring of the living water of the Spirit, but not until after Jesus was glorified in His death and resurrection.  But after Jesus was glorified, then all who believe will be given the Spirit.
And that's exactly what happened, because —
Jesus' promise was fulfilled on the Day of Pentecost
And they were all filled with the Holy Spirit and began to speak in other tongues as the Spirit gave them utterance. (Acts 2:4)
Christ had died, risen, and ascended.  And as the first believers were gathered Jesus poured out his Spirit on them.  Finally, what John the baptist taught, and what Jesus had promised, was fulfilled.  Jesus baptized His people with the Spirit — filling their thirsty hearts to overflowing with living water.
He also gave the gift of tongues, which enabled them to speak of God's mighty works in languages they had never known so foreigners could hear the Gospel.  But later Paul says not every believer speaks in tongues (1Cor 12:30).  So while the baptism of the Spirit is promised to every believer, the gift of tongues is not.
Peter promised this gift of the Spirit to everyone who repents
The crowd had gathered.  They heard the believers joyfully proclaiming the mighty works of God in the listeners' own languages.  But some of them mocked, accusing them of being drunk.
So Peter explained that this was a fulfillment of Old Testament prophecy (Joel 2:28-32).  That the same Jesus whom they had crucified had been raised from the dead by God, and had poured out the promised Holy Spirit (Acts 2:32-33).
And then Peter concludes his preaching —
"Repent and be baptized every one of you in the name of Jesus Christ for the forgiveness of your sins, and you will receive the gift of the Holy Spirit."  (Acts 2:38)
So no longer did believers need to wait.  Because Jesus had been glorified, the gift of the Spirit is given whenever someone repents and trusts Christ.  (Baptism is not a condition for receiving the baptism of the Spirit, since in Acts 10:44-48 the Spirit is given prior to baptism.)
So Peter's listeners would expect that when they repented and believed, Jesus would baptize them with the Holy Spirit, quenching their heart-thirsts with living water.
An Example
In future blog posts, I'll trace this through the rest of the New Testament.
But I'll wrap up today's post by sharing how John Bunyan experienced the baptism of the Spirit.
He had been seeking salvation, but grappling with unbelief and spiritual darkness.  But then he came to see that salvation was by faith in Christ alone.  So, to help him turn to Christ, he read Hebrews 12.  Here's what happened —
Then with joy I told my wife, "Oh! now I know!  I know!"
That night was a good night to me, I never had but few better; I longed for the company of God's people, that I might have imparted to them what God had showed me. 
Christ was a precious Christ to my soul that night; I could scarce lie in my bed for joy, and peace, and triumph, through Christ.  This great glory did not continue upon me until morning, yet the 12th chapter of Hebrews was a blessed Scripture to me for many days together after this.
(John Bunyan, Grace Abounding to the Chief of Sinners, p.63)
Comments?  Questions?  Feedback?
I'd love to hear them.  Leave a reply below — thanks.
If you know someone who is puzzled about the baptism of the Holy Spirit, email this to them using the "share" button below.  Or use the other buttons to share it on your favorite social media.
If you would like to interact with others who are seeking to live by faith in Christ, visit our Forums page.
If you would like to receive a Saturday email summarizing the week's posts — subscribe here.  (I will only use your email address for Living By Faith Blog communications, and you can easily unsubscribe at any time.)
And here are some related posts you might find helpful –
(Picture is by Gustav Dore and is in the public domain.)