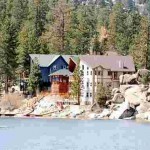 To my shame, I sometimes feel jealous toward pastors who are more well-known than me.
This is serious, because Paul says those who practice jealousy "will not inherit the kingdom of God" (Gal 5:20-21).
So what's behind my jealousy?
Jealousy is the pain that arises when someone has something you don't have, which you think you need to be fully satisfied.
So if I am jealous of someone's lakefront house, it's because I believe I need a lakefront house to be fully satisfied.
Or if I am jealous of someone's athletic ability, it's because I believe I need more athletic ability to be fully satisfied.
Or (this is my problem) if I am jealous of someone's fame, it's because I believe I need more fame to be fully satisfied.
So when I'm jealous, the problem lies in my faith — I'm not trusting Jesus' promise that He Himself will fully satisfy me (John 6:35).  And I am trusting that something else will satisfy me more than Jesus.
The fight of faith
So how can I fight the fight of faith to overcome jealousy?
Here's steps I find helpful.
Set your faith back on Jesus Christ.  Even with your jealous feelings.  Even with your weak faith.
You don't need to overcome your jealousy first.  You can't.  Come to Jesus just as you are, and trust Him to forgive you, change you, deliver you.  He will.  Every time.
See what's going on in your heart.  Identify the focus of your jealousy — what is it you think you need to be happy?  Friends?  Good looks?  Getting pregnant?  Money?  Be specific.
In my case — it's fame.
So what is the problem?  It's not that I have too little fame.  It's that I have turned from trusting Jesus to satisfy me, and I am trusting fame to satisfy me.
When you and I are jealous we are like a thirsty person who turns from an overflowing fountain of cold, clear, refreshing water — to make our own water jars that end up bone-dry and broken (Jer 2:13).
Why do we do this?  The root cause is our own sin.  So –
Confess this as sin. Understand that you are trusting fame (or whatever) more than Christ.  Which means you are not trusting Jesus' promise that He will satisfy your heart-thirst in Himself (John 6:35).
This greatly dishonors Christ — because He is the all-satisfying Treasure of the universe, and because His every promise is trustworthy.  So ask God to help you see and feel how wrong this is — and confess it to Him.  Ask Him forgive you and cleanse you.
By faith alone in Christ alone you can be assured that you are completely forgiven, clothed with Jesus perfect moral goodness, and passionately loved by God — who rejoices to do you good with all His heart and soul (Jer 32:41).
Pray earnestly for the work of the Spirit.  By yourself you can't change your heart.  You need a supernatural work of the Spirit.
So humble yourself before God, admit that you need His undeserved mercy, and plead with God to enlighten the eyes of your heart so you see and feel that Jesus is infinitely more satisfying than whatever it is you are jealous for (Eph 1:17-18).
Prayerfully set your heart on Jesus.  Look at verses describing Jesus' mercy, goodness, justice, and power — like Luke 7:13; Gal 2:20; Rev 1:5; Rev 5:9.  Look at promises of how Christ will completely satisfy your heart — like Matt 11:28-29; John 6:35; John 7:37-39; 1Cor 12:13.
Earnestly meditate on God's Word until the Spirit destroys your unbelief, renews your faith in Christ, and you feel once again that Jesus Christ — not fame or money or friends — is all you need to be satisfied now and forever.
This may not happen quickly.  For me it often happens slowly.  But even this is God's goodness towards us — as the slower times humble us, deepen our longings, and make the deliverance all the sweeter when it comes.
So be patient, and keep praying earnestly over God's Word until you experience God's Spirit changing your heart.  Be encouraged by Scriptures like Psa 13:3; Psa 42:1-2; Psa 63:1.
Two preventative steps

There are also two other steps which can keep jealousy from returning.
First, lift up to God the desires of your heart.
Let's say you long to get pregnant, and you are jealous that someone else is pregnant.  You have fought the fight of faith, you are again trusting Jesus as your all-satisfying Treasure, and you are free from jealousy.
But even though you are satisfied in Christ, you still long to get pregnant.
So lift up your longing to the Father.  Pray and ask God to enable you to get pregnant.  Pour out your soul before Him.  Feel free to weep before Him — as Hannah did (1Sam 1:10).  Be honest with Him about your desires.
Lifting your desires to the Father will help you be content so you are strong against jealousy.
Second, trust that God withholds nothing good from you.
God promises that whatever He gives you is tailor-made to bring you the most joy in Christ.  That's true about fame, promotions, friends — everything.  That's the point of Psa 34:10 and Psa 84:11.
So whether God does or does not give me fame — whatever He chooses will bring me the most joy in Christ.
Trusting that God withholds nothing good from me will help me squash jealousy when it tempts me.
How about you?
How have you fought jealousy?  What happens when you try the above steps?  I'd love to hear — leave a reply below.  Thanks.
Do you know someone who would benefit from reading this?  Email it to them using the "share" button below.  Or use the buttons to share it on Facebook, Twitter, or Google+.
If you would like to receive a Saturday email summarizing the week's posts — subscribe here.  (I will only use your email address for Living By Faith Blog communications — and you can easily unsubscribe at any time.)
And here are some related posts —
(Picture used by permission of sarah835 at flickr.com.)