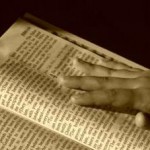 My Bible reading hasn't been strong
You've experienced it.
You finish your Bible reading, but can't remember what you read.
Or maybe you remember, but it's done nothing for you — your heart is the same as when you started.
That's what I've experienced recently.
What helped today's reading
So this morning I tried something different.
I started by writing down my heart-struggles —
Jealous about a recent development in someone's life.
Frustrated about an unresolved scheduling issue.
Anxious about a conversation I need to have with someone.
Worried about a financial decision.
Then I prayed and asked the Father to use my Bible reading to help with each of these.
And then I started reading.
This morning Bible reading plan had me reading Numbers 15-17, Psalm 54, Matthew 23, and Romans 5.
What happened
Numbers 15:35 —
A man who worked on the Sabbath was stoned to death.
This sobered me about the seriousness of  sin — which would include my jealousy.
I repented and prayed for God to set me free.
Numbers 15:41 —
God reminds Moses that He is the God who miraculously brought them out of Egypt.
My scheduling problem is tiny compared to being enslaved in Egypt.
Praying over this strengthened my faith that God would solve the scheduling problem.
Numbers 16:10 —
God honored Korah by having him serve in the tabernacle.
But now Korah grumbles because he wants to be a priest.
God says — "Is the call to tabernacle-serving too small?"
Ouch.  Is all that God has given me so small that I'd be jealous of someone else?  No way.  I repent some more.
I also stop and give thanks for the astonishing mercy God has shown me.
Psalm 54:4 —
I lingered here for a while — "God is my helper."
Big, massive God is committed to helping little me.  Awesome.
I specifically brought each concern to Him — and asked Him to help.
This strengthened my faith and brought me peace.
Psalm 54:7 —
"He has delivered me from EVERY trouble."  Wow.
I prayed over that, trusting that He would deliver me concerning my scheduling problem, upcoming conversation, financial decisions.
Matthew 23:13 —
I was encouraged that through Jesus I am now in the Kingdom of heaven — knowing God's love and care.
This helped with every area I had listed.
This also strengthened my compassion for lost people who are still in Satan's kingdom.
Romans 5:20 —
My sin of jealousy is not too much for Jesus — His grace is abundantly ready to forgive and free me.
Try this

This morning's Bible-reading was more powerful than I've had for a while.
So next time you read God's Word, try this —
Start by honestly listing your heart-struggles.
Pray earnestly for God to speak to each of them through His Word.
Read, being on the lookout for verses that speak to your needs.
Pray over those verses until you feel God meeting you in His Word.
Feedback?  Comments?  Suggestions?
I'd love to hear them — feel free to leave a reply below.  Thanks.
If you know someone who would be helped by reading this, email it to them with the "share" button below.  Or share it on Facebook, Twitter, or Google+.
If you would like to receive a Saturday email summarizing the previous week's posts, subscribe here.  (I will only use your email for Living By Faith Blog communications — and you can easily unsubscribe at any time.)
Here's more resources on God's Word —
(Picture by abcdz2000 on everystockphoto.)