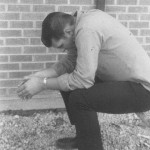 Need to Strengthen Your Faith?

You might feel like you are the only one.  But you are not.
This side of heaven — every believer has times when his or her faith is weak.
What does weak faith feel like?  When I'm weak in faith —
I can doubt God's forgiveness.
I'm not sure God loves me.
I don't believe God is in control.
I am tempted to pursue sin more than Jesus.
I worry about the future.
I feel discouraged or blah.
I lack spiritual motivation.
And when faith is weak, we can feel like nothing will ever change — that we'll never again be strong in faith or feel close to God.
There's Good News
The good news is that no matter how weak your faith, God has the power to strengthen you.
You can see that in —
Mark 9:24 — where a man prays "I believe, help my unbelief."
Ephesians 3:16 — where Paul prays that God would strengthen the faith of the church in Ephesus.
Luke 22:31-32 — where Jesus prays that Peter's faith would be strengthened.
The One who spoke a Universe into existence, who raised Lazarus from the dead, who brought Jericho's walls down — He can and will strengthen your faith.
But How?
It's not that we try to be good enough to earn strong faith from God — or that we try to be positive and raise our spirits.
Neither of those are taught in the Bible.
But in the Bible God invites us to take steps which He will use to strengthen our faith.
First — Pray and Ask Jesus to Help Your Unbelief
Immediately the father of the child cried out and said, "I believe; help my unbelief!" (Mark 9:24)
How did Jesus respond?  He answered the man's prayer.
So don't think you need strong faith before Jesus will listen to you.
Turn to Him just as you are — with your weak faith — and cry out to Him for help.
Confess that your faith is weak.  Ask Him to forgive you through the Cross.  Ask Him to strengthen your faith.
Because of His death on the Cross, He will welcome you, love you, forgive you.
AND — He will strengthen your faith — especially as you then take this next step —
Second — Hear the Word of Christ
So faith comes from hearing, and hearing through the word of Christ.  (Rom 10:17)
Paul teaches that as we hear the Word of God, God will bring His power upon us and strengthen our faith.
Open to a passage which is full of God's love and faithfulness and promises in Christ.
And prayerfully read over that passage, asking Jesus to strengthen your faith, so you see and feel that His promises are true.
Here's some passages I have found helpful to pray over —
I John 1:9 — that if I confess my sins, then because of Jesus' death, God will surely forgive me.
John 6:35 — that if I come to Jesus and trust Him, He will fully satisfy me in Himself.
Heb 13:5-6 — that God will certainly meet my financial needs (not that I'll be rich, but my needs will be met).
2Cor 4:17-18 — that God plans every trial to bring me even more joy in Him forever.
James 1:5 — that God will give me all the wisdom I need.
Psalm 50:15 — that I will experience God's deliverance in every trial.
So pick whichever one of these fits your circumstances — and pray over it, think deeply on it, and pray over it some more — until you feel God strengthening your faith.
This might happen quickly — or not.  But you can trust God's timing.
And He WILL — in His perfect timing — strengthen your faith.
You will feel the Holy Spirit changing your heart, making Jesus more real to you, satisfying your soul, strengthening your faith.
So What Happened?
I'd love to hear what God did.  Leave a reply below — thanks!
If you know someone who would be encouraged by reading this, email it to them using the "share" button below.  Or use the other buttons to share it on your favorite social media.
If you would like to meet and interact with others who are living by faith, visit our Forums page.
If you would like to receive a Saturday email summarizing the previous week's posts — subscribe here.  (I will only use your email address for Living By Faith Blog communications — and you can easily unsubscribe at any time.)
And here are some related posts you might find helpful —
(Picture by pawel213 on stock xchng.)