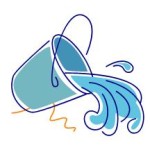 How living by faith helps us love
Friday morning I was talking with some men about how to be more loving.
We know Jesus calls us to to love our wives, our children, our enemies, our neighbors.
But how do we do this — especially when we're not feeling it?
Jesus tells us in Golden Rule
We looked at what's called the Golden Rule — Matthew 7:12 —
So whatever you wish that others would do to you, do also to them.
Here Jesus calls us to do as much good for others as we want others to do for us.
But if we are honest we will ask — "What about us?  Who's going to do good for us?"
Jesus loves that question.  And He Himself answers that question, in —
The most important word in the Golden Rule

It's the word "so," which means "therefore."  Look at the verse again —
So whatever you wish that others would do to you, do also to them
The word "so" shows that obeying this command depends on understanding the previous verse — verse 11 —
If you then, who are evil, know how to give good gifts to your children, how much more will your Father who is in heaven give good things to those who ask him!
Here Jesus promises that whenever we ask, our Father in heaven will always do good for us (especially the greatest good of giving us more of Himself).
We first must understand that God will always do good for us (v.11) — so therefore we can devote ourselves to doing good for others (v.12).
How to obey the Golden Rule
Jesus does not want us to obey the Golden Rule by gritting our teeth and ignoring our own needs so we can care for the needs of others.
He wants us to obey by first trusting all our needs to our Father in earnest prayer — resting in the fact that He is rejoicing to do us good with all His heart and soul.
Then — trusting that God is passionately pursuing us with good — we can devote ourselves to doing good for others.
If you are having a hard time loving, try this —
If so, try this. Open your Bible to Mat 7:11, and pray over that promise until the Holy Spirit stirs your heart that it's true.
Pray until you believe that because of Jesus' death, as you ask God in prayer, He will bring you good through every problem, every circumstance, and every future scenario.
Now notice your heart. What's happening?
When you see that God will bring you great good. you will feel growing peace. Even joy. Your heart will become more and more full.
And as your heart fills, you will start wanting to do good for others. It's just like what happens when you pour water into a bucket. If you keep pouring, it will overflow.
That's how we obey the Golden Rule.
Ways to respond
Do you have comments, feedback, thoughts?  Feel free to leave a reply below.
Do you know someone who would be helped by this?  Send it to them by using the "share" button below.
If you would like to receive a Saturday email giving a brief summary of the previous week's posts, subscribe here.
(Picture is from Microsoft Publisher Clipart.)