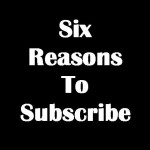 Why subscribe to this blog?  Six reasons —
1. Stronger faith.  Every post I publish is aimed at giving you practical, battle-tested, real-life help for "living by faith in the Son of God" (Gal 2:20).   And the easiest way to get every faith-strengthening post is by subscribing.
2. Something extra.  Each Saturday's email includes resources that will strengthen you in living by faith in Christ.
3. Privacy.  I will only use your email address for Living By Faith Blog communications.
4. It's easy to unsubscribe.  You can try subscribing for a week to see how you like receiving the posts in your email inbox.  If you decide you don't like it — you can easily unsubscribe (there's a link you can click at the bottom of each email I send out).
5. No more missed blog posts.  You won't miss any posts if you forget to check the blog site — because every Saturday I will send he week's posts to your email inbox.
6. No more wasted blog visits.  I try to publish on a consistent schedule (once a week, right now).  But have you ever gone to the site to see if there's a new post — and been disappointed because there's not?  Subscribing helps you avoid that —  because I send each week's blog post to you.
Email sign-up
So if you would like to subscribe via email — go to the top right of this page, fill in your email address, and click on the "Subscribe" button.
Thank you so much.
Other Subscriptions
If you'd like to subscribe to RSS, Twitter, Facebook or YouTube, go to the top right of this page and click on the appropriate icon.
Thanks!