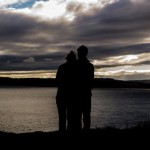 The God of Comfort
A reader sent me an email that I thought would be encouraging others who also are going through a time of heartbreak.
Here is what she said —
Hi Pastor Steve,
I am writing to you to thank you specifically for the post you wrote sometime in 2012 on dealing with loss and grief.
I commented on that post three years ago this month about how my husband and I were dealing with the loss and grief of longing to grow our family.
It's three years later and our arms are still empty.
And in fact, just this last week our second adoption fell through–the baby would have been born tomorrow. Our hearts are so broken.
And yet in the midst of so much pain and hurt, the Lord mercifully brought to mind this blog post so I searched for it again.
I am so grateful for the truths you shared.
It can be hard to find sound, biblical wisdom in this area sometimes … people are quick to remind us of the truths we know, the truths we love, but sometimes it feels like people have a hard time acknowledging the pain.
I so appreciated when you said that "comfort doesn't seem possible" in the throes of grief, but that it is possible with God and we can ask Him to help us.
We have walked a long, hard, painful road in this area of our lives.
And this second failed adoption is such a blow to our weary hearts.
I am not angry with God but I am struggling to draw near Him as I deal with so much pain and at times numbness and apathy.
But going to Him is exactly what I need. Hope and comfort seem to have fled — but He is the God of hope and the God of comfort, so where else can I go?
My husband and I are surrounded by a precious family of believers who are coming around us and bringing us before the Father constantly, and we are so grateful. We are struck down, but not destroyed.
I just wanted to write to update you and let you know how much I was impacted by the words you shared.
It doesn't seem like you've shared a lot on this blog about infertility and adoption, so if you and your wife have more to share I'd love to hear.
And if the Lord leads, we'd be so grateful if you would ask the Father to mercifully comfort us in our pain and give us more of Himself.
I look forward to meeting you someday in Heaven to thank you for how you have ministered to me!
In Christ,
E
Comments?  Feedback?
I'd love to hear them, although I might not be able to respond.  Leave a reply below —   thanks.
If you know someone this would help, email it to them using the "email" button below.  Or use the other buttons to share it on your favorite social media.
If you would like to interact with others who are seeking to live by faith in Christ,  visit our Forums page.
If you would like to receive regular emails with the most recent posts — go to the top right of this page, fill in your email address, and click the "Submit" button.  (I will only use your email address for Living By Faith Blog communications, and you can easily unsubscribe at any time.)
And here are some related posts you might find helpful –