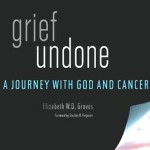 The God of All Comfort
In 2 Corinthians 1:3-4 Paul says that God is "the God of all comfort, who comforts us in all our afflictions."
But what does that mean?  How does God comfort us?  What does it look like — and feel like?
Let's learn from Elizabeth Groves.
The Death of a Husband
In 2007 Elizabeth Groves' dearly-loved husband died after a long bout with cancer, leaving her alone.
Before he died they had written a blog, describing their joys and sorrows and suffering through this season.
And after he died she continued the blog, writing of her grief and sorrow — and about how God comforted her.
In 2014 she published these blog posts as Grief Undone: A Journey with God and Cancer.
Last week I finished the book.  And in one section she describes how God comforted her after the death of her husband.
Loneliness and Grief
In the past she had always been able to go to Al and talk with him, share with him, be with him.
But now she was alone.  And there were times when she was overwhelmed with loneliness.
So in her loneliness and grief, she turned to the Lord.
The Lord Was THERE
Here's what happened —
… when I went to the Lord as I would have gone to Al, the Lord was there.
He walked with me on the days when my heart was heavy, and he encouraged me that he is a God who redeems broken people and broken situations.
One night I felt concerned and discouraged about a situation, so I turned off all the lights and sat in a rocking chair in the dark living room and prayed.
As I did, I had such a sense of the Lord's mighty, glorious majesty.
He was there in power and awe, the Creator of the universe, mighty to rule and mighty to save.
He was the God who was my Father and who loved and cared for me and for the people I loved.
Remembering that put everything into perspective.
In situations where there was nothing I could do to help, I could pray, and in fact, praying was probably the most meaningful thing.
I was not alone at all.
In the times I had no one I could talk to except the Lord, I realized more clearly than ever how close and real he was, and that he listened and cared.
He was (and is!) always there to talk with me.
Looking back I realize that those moments of the Lord reminding me of his tender, intimate love and nearness are actually the highlights of these years, and some of my most precious memories.
Something I Wouldn't Trade Away
I've often heard people say that through suffering they got to know God much better, and that has certainly been true for me in losing Al.
This is not the road I would have chosen.
But I have seen the Lord's phenomenal, overwhelming, unfailing, tender, protective, faithful love as I never had before, and I know him and have grown close to him in ways I'm sure I wouldn't have otherwise.
That is something I wouldn't trade away.
Honestly, this has been one of the most vibrant and glory-filled periods of my life.
…
The night I spent sitting in my rocking chair, alone in the dark with just the Lord to talk to, was one of the most special nights of my life.
(Elizabeth Groves, Grief Undone: A Journey with God and Cancer, Kindle loc. 2842, 2860, 2875)
Questions?  Comments?
How have you experienced the God of all comfort?  What did you think of what Elizabeth Groves experienced?  Leave a reply below —   thanks.
If you know someone this would help, email it to them using the "email" button below.  Or use the other buttons to share it on your favorite social media.
If you would like to interact with others who are seeking to live by faith in Christ,  visit our Forums page.
If you would like to receive regular emails with the most recent posts — go to the top right of this page, fill in your email address, and click the "Submit" button.  (I will only use your email address for Living By Faith Blog communications, and you can easily unsubscribe at any time.)
And here are some related posts you might find helpful –