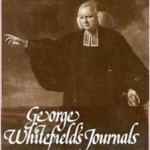 George Whitefield
George Whitefield was one of the men used by God in the 1700s to spread the gospel throughout England and America.
Recently I have been reading George Whitefield's Journals, and have been so encouraged by this that I decided to share some quotes (in italics), followed by my thoughts.
Quotes
"If through Divine grace I have done anything praise-worthy, not unto me, not unto me, but unto God give all the glory!"  (p.71)
Because of our sin, none of us are deserving of praise.  The only being who deserves praise and glory is God.
"One taste of Christ's love in the heart will make amends for all."  (p.71)
Because seeing, and feeling, the truth of Christ's love is our infinitely greatest joy.
"A lecture was to be preached that evening … and several importuned me to preach it; at first I was fearful (O me of little faith), having no notes.  But I went up, depending on the promise, "Lo! I am with you always even to the end of the world," and was enabled to preach to a large congregation without the least hesitation.  Did anyone yet ever trust in the Lord and be forsaken? (p.98)
I love how he consciously depended on God's promise — and God was faithful.
"Set apart this day as a day of humiliation, [fasting], and intercession for friends and all mankind; and found my heart greatly enlarged in that Divine exercise.  Intercession is a glorious means to sweeten the heart." (p.108)
When we devote time to prayer, God meets us and sweetens our hearts.
"Was…a little inclined to heaviness, but drove it off by a long intercession.  Prayer is an antidote against every evil." (p.111)
When we are feeling heavy, and lethargic, and drawn to evil, we should pray.  "Draw near to God, and he will draw near to you" (James 4:8).
"Lord, if I can but be made instrumental to save one soul, I care not if I am tossed on the ocean through my whole life." (p.179)
The joy of salvation, and the resulting glory that comes to Christ, is worth it all.
"Oh, when shall I come to rejoice in others' gifts and graces as much as in my own.  I am resolved to wrestle with Jesus Christ by faith and prayer till he blesses me [with humility]." (p.197)
He confessed his pride, and committed to fighting his pride by faith and prayer until he received more humility.
"At my return home…my soul was filled with an intenseness of love, and I knew what it is not only to have righteousness and peace, but joy in the Holy Ghost.  This is my continual food." (p.239)
He knew Christ was his heart-satisfying food, and celebrated those times when he experienced Christ in this way.
How are his mercies showered down upon me!  What enlargements of heart by experienced this night!  About three days ago I was much humbled, now am I exalted.  Yet a little while and I shall be humbled again.  Thus God acts according as he sees best for our souls.  (p.251)
He hungered to see and feel the truth of Christ, and celebrated these works of God's mercy when they came.  But he knew that sometimes God withholds this blessing to humble us before him.
I had a glorious opportunity of spending many hours in close communion with God … A sense of my actual sins humbled me exceedingly; and then the freeness and riches of God's everlasting love broke in with such light and power on my soul that I was often awed into silence, and could not speak."  (p.331)
The more deeply we feel our sinfulness, the more powerfully we will experience God's love.  As Jesus said, "he who is forgiven much, loves much" (Luke 7:47).
"The outward righteousness of Jesus Christ imputed to us, I believe, is the sole fountain and cause of all the inward communications [of experiencing Christ's presence] which we receive from the Spirit of God." (p.335)
We never deserve outpourings of God's Spirit.  They are always blood-bought gifts given to us by faith alone because we are clothed with Jesus' perfect righteousness.
"I know not when I have felt more intenseness of love, peace, and joy in my soul… Amazing condescension that the high and lofty One that inhabiteth eternity should condescend to dwell in earthly Tabernacles…I am lost in wonder.  A sense of Thy mercies strikes me dumb."  (p.340)
This quote shows that I have been settling for too little of this promised work of the Spirit.  By God's grace, I am going to seek Him more earnestly.
Questions?  Comments?
I'd love to hear them, although I might not be able to respond.  Leave a reply below —   thanks.
If you know someone this would help, email it to them using the "email" button below.  Or use the other buttons to share it on your favorite social media.
If you would like to interact with others who are seeking to live by faith in Christ,  visit our Forums page.
If you would like to receive a Saturday email summarizing the week's posts — go to the top right of this page, fill in your email address, and click the "Submit" button.  (I will only use your email address for Living By Faith Blog communications, and you can easily unsubscribe at any time.)
And here are some related posts you might find helpful –