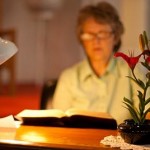 So Encouraging
I received the following note from a reader.
He said that my recent post about "J. I. Packer on the Promises of God" reminded him of his mother.
What he said was so encouraging, that I thought I would pass it on to all of you –
What He Said
Hi Steve —
This is Don in Reno.  Glad to be subscribing to your blog now.
The J. I. Packer post reminded me of how my mom survived a devastating divorce with few resources, while taking care of four young boys (I was the oldest at 11).
Our pastor would talk about the promises of God, and after 6 months of crying so loud I could hear her in the street during touch football games, she began to go through her Living Bible and underline all of God's promises.
She read and studied so much I don't know how the cover and binding of her Living Bible survived.
What was clear was that the only way she was going to be able to face the day with any confidence, and endure all the pitfalls that come with raising four boys (with little help from their dad), was to claim God's promises.
But she did claim them.
She would talk over and over about the peace that surpasses all understanding (Philippians 4:6-7).
She put in the effort to stand on the promises, and she received the peace that God promises.  She not only survived, but she thrived.
So when I left for seminary, and also when I started my first pastorate, she slipped me books listing the promises found in the Bible.
Now I know why she did — because she knew that the Christian life was all about standing on God's promises, believing them by faith.
Thanks for the reminder in the post.  Thanks for the reminder of Galatians 2.20.  I reposted it with my own comments on Facebook.
Take-Aways
Her pastor talked to her about God's promises.  Let's talk to each other about God's promises.
She devoted time to studying and learning God's promises.  This takes time, but is well worth it.
She put in the effort to stand on God's promises.  It's not enough to learn God's promises. We need to pray over them, asking God to strengthen our faith, and meditating upon the promises until our faith grows and our hearts are changed.
As a result she not only survived, but thrived.
Questions? Comments?
I'd love to hear them, although I might not be able to respond.  Leave a reply below —   thanks.
If you know someone this would help, email it to them using the "email" button below.  Or use the other buttons to share it on your favorite social media.
If you would like to interact with others who are seeking to live by faith in Christ,  visit our Forums page.
If you would like to receive a Saturday email summarizing the week's posts — go to the top right of this page, fill in your email address, and click the "Submit" button.  (I will only use your email address for Living By Faith Blog communications, and you can easily unsubscribe at any time.)
And here are some related posts you might find helpful –
(Picture from compfight.com by durelle.)