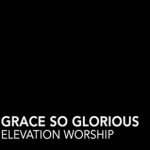 Longing for More
We are seeing God work in amazing ways here in Abu Dhabi.
But at the same time, I've been longing for God to do in me what Paul prays in Ephesians 3:16-17 —
… that according to the riches of his glory he may grant you to be strengthened with power through his Spirit in your inner being, so that Christ may dwell in your hearts through faith.
It's true that Christ dwells in every believer.  So why does Paul pray that Christ may dwell in our hearts through faith?
Doesn't Christ already dwell in our hearts?  Yes.  That happened at conversion, as we see, for example, in Romans 8:9-10.
But it's also true that God can give us a greater heart-experience of this indwelling.
Which means that it's possible for us to know and feel more of Christ's love, majesty, and glory.
That's what Paul is praying for the Ephesians believers.
And that's what I've been lacking — and longing for.
"Grace so Glorious"
So tonight I came home and watched a YouTube of "Grace so Glorious" by Elevation Worship (included below).
And as I listened, by His mercy, God gave me a greater taste of Jesus' glory than I have had in weeks.
Here are the lines God used to help me see more of Jesus —
Perfection bore our penalty.
Jesus was morally perfect.  But because of his great love and mercy, he bore our penalty.
Oh, the glory of a Savior's love.
He loved us while we were his enemies.  That's a glorious love.
To know, forever we are welcomed home.
Not condemnation, but a loving welcome home. Forever.
Worthy is the Lord of all the glory forever.
He is worthy.  And at this point in the song I was deeply seeing and feeling how worthy he is to be glorified forever.
O wondrous day when I will see the face of Him who ransomed me.
That day is coming.  And He is, and will be, worth it all.
Here's the YouTube
I pray that God will touch your heart as he has touched mine.
Comments? Feedback?
I'd love to hear them, although I might not be able to respond.  Leave a reply below —  thanks.
If you know someone this would help, email it to them using the "share" button below.  Or use the other buttons to share it on your favorite social media.
If you would like to interact with others who are seeking to live by faith in Christ, visit our Forums page.
If you would like to receive a Saturday email summarizing the week's posts — go to the top right of this page, fill in your email address, and click the "Submit" button.  (I will only use your email address for Living By Faith Blog communications, and you can easily unsubscribe at any time.)
And here are some related posts you might find helpful –