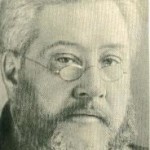 Spurgeon on God's Promises
For the past few weeks I have been reading Charles Spurgeon's According to Promise: or the Method of the Lord's Dealings with His Chosen.
This has been timely, as God has used this book to strengthen my faith as we made the move to Abu Dhabi.
Spurgeon's teaching was so encouraging that I decided to share some quotes with you.
I pray that these quotes will —
remind you of the importance of God's promises,
encourage you to make regular use of God's promises,
and strengthen your faith in God's promises.
Quotes from the Book
"Hope, kindled by the divine promise, affects the entire life of a man in his inmost thoughts, ways, and feelings." (20)
"[Hope in God's promise] may seem to be of less importance than correct moral deportment, but in truth it is of [great importance], not only in itself, but in that which it produces upon the mind, heart, and life."  (20)
"[Hope in God's promises] will endure trials, conquer temptations, and enjoy heaven below."  (21)
"When we believe God as he is revealed in Christ Jesus, we believe all his promises.  Confidence in the Person involves confidence in all that he speaks: hence we accept all the promises of God as being sure and certain.  We do not trust one promise and doubt another but we rely upon each one as true, and we believe it to be true to us so far as it has respect to our condition and circumstances."  (32)
"God loves faith because it honors him, and also because it leads to acts of obedience to him, which obedience includes love to our fellow-man."  (33)
"…as we believe our Bibles, we are bound to rely upon the promises contained there in."  (38)
"It is the cause of much weakness too many that they do not treat the promises of God as realities.  If a friend makes them a promise, they regard it as a substantial thing, and look for that which it secures; but the declarations of God are often viewed as so many words which means very little."  (38f)
"Why does it seem a singular thing to rest on the promise of God?  Somehow it looks to many to be a dreamy, sentimental, mystical business; and yet if we view it calmly it is the most matter-of-fact transaction that can be.  God is real: all else is shadow.  He is certain: all else is questionable.  He must keep his word, this is an absolute necessity: how else could he be God? To believe God should be an act of the mind which needs no effort." (40)
"God's promises are the peculiar treasure of believers: the substance of faith's heritage lies in them.  All the promises of our covenant God are ours to have and to hold as our personal possession.  By faith we receive and embrace them, and they constitute our true riches."  (Or three)
"Faith without a promise would be a foot without ground to stand upon."  (44)
"When the Lord gives us faith, and we rest on his promise, then we are brought face to face with him."  (47)
"The promise… excites prayer.  What is prayer but the promise pleaded?  A promise is, so to speak, the raw material of prayer.  Prayer irrigates the fields of life with the waters which are stored up in the reservoirs of promise.  The promise is the power of prayer."  (50)
"In my time of trouble I like to find a promise which exactly fits my need, and then to put my finger on it, and say, "Lord, this is thy word; I beseech thee to prove that it is so, by carrying it out in my case.  I believe that this is your own writing; and I pray thee make it good to my faith.""(51)
"Let us know the promises.  Should we not carry them at our fingers' ends?  Should we not know them better than anything else?"  (57)
"What is the use of having an anchor at home when your ship is in a storm at sea?  What avails a promise which you cannot remember so as to pleaded in prayer?"  (58)
"Oh that our conversation were more often sweetened with the precious promises of God!  After dinner we often sit for half an hour, and pull our ministers to pieces, or scandalize our neighbors.  It would be far better if we said, "Now, friend, quote a promise," and if the other replied, "And you mention a promise too."  Then let each one speak according to his own personal knowledge concerning the Lord's fulfillment of these promises, and let everyone present tell the story of the Lord's faithfulness to him.  By such holy converse we would warm our own hearts, and gladden one another's spirits."  (59)
"I have never yet met with a person who trusted God, and found the Lord's promise to fail him."  (66)
"Each one must personally accept, adopt, and endorse the promise of God by his own individual faith, or he will derive no benefit from it."  (79)
"We may rest assured that somewhere in the inspired page there is a promise fitting the occasion."  (88)
"Therefore trust, and be not afraid.  What ever else may prove a failure, the promise of God never will.  Treasure laid up in this Bank is beyond all hazard."  (93)
Questions?  Comments?
I'd love to hear them, although I might not be able to respond.  Leave a reply below —  thanks.
If you know someone this would help, email it to them using the "share" button below.  Or use the other buttons to share it on your favorite social media.
If you would like to interact with others who are seeking to live by faith in Christ, visit our Forums page.
If you would like to receive a Saturday email summarizing the week's posts — go to the top right of this page, fill in your email address, and click the "Submit" button.  (I will only use your email address for Living By Faith Blog communications, and you can easily unsubscribe at any time.)
And here are some related posts you might find helpful —