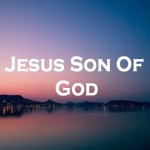 A Heart-Capturing Love
That's what Paul describes in 2 Corinthians 5:14-15 —
For the love of Christ controls us, because we have concluded this: that one has died for all, therefore all have died; and he died for all, that those who live might no longer live for themselves but for him who for their sake died and was raised.
The Greek word "controls" means that Christ's love "holds [Paul] fast as the controlling factor in his life" (David Garland, 2 Corinthians (1999), p. 277).
In other words, Paul has been so overwhelmed by the beauty of Christ's love that his one aim is to behold, and magnify, Christ's love.
And that's what will happen to all those who see and feel the love of Christ.  As Paul puts it at the end of v.15 — they will "no longer live for themselves but for him who for their sake died and was raised."
Seeing Christ's Love
But where do we see Christ's love most clearly?
Paul's answer is that we see it most clearly in the cross, because the cross shows Jesus dying for all of us.
Our sin dishonors God's infinite glory, and so we deserve infinite punishment.
But by lowering himself to become a man, and by being punished on the cross, Jesus paid the infinite punishment we deserve.
He Loves Us
But why did he do that?  Because he loves us.
We dishonored him — but he loves us.
We rebelled against him — but he loves us.
We rejected him – but he loves us.
We shouted "Crucify him!" — but he loves us.
Be Captured by This Love
Take time right now, or as soon as you can, to let your heart be captured afresh by Christ's love.
Ask for more of the Spirit's work of revealing Christ to you.
Think deeply on verses like the following —
"And the life I now live in the flesh I live by faith in the Son of God, who loved me and gave himself for me." (Galatians 2:20)
"Fear not, I am the first and the last, and the living one. I died, and behold I am alive forevermore…" (Revelation 1:17-18)
"And being found in human form, he humbled himself by becoming obedient to the point of death, even death on a cross." (Philippians 2:8)
And let this worship song by Chris Tomlin and Christy Nockels help you –
httpv://www.youtube.com/watch?v=Yj_s9_45QpI
Comments?  Questions?
I'd love to hear them, although I might not be able to respond.  Leave a reply below —  thanks.
If you know someone this would help, email it to them using the "share" button below.  Or use the other buttons to share it on your favorite social media.
If you would like to interact with others who are seeking to live by faith in Christ, visit our Forums page.
If you would like to receive a Saturday email summarizing the week's posts — go to the top right of this page, fill in your email address, and click the "Submit" button.  (I will only use your email address for Living By Faith Blog communications, and you can easily unsubscribe at any time.)
And here are some related posts you might find helpful –