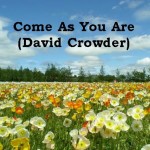 Come As You Are
Let's say you are feeling far from God.  Maybe you are discouraged, or full of worry, or overwhelmed with anger.
At those times, what should you do?
The good news of Jesus is that no matter how unspiritual we feel, if we want him to help us, and trust him to help us, we can turn to him just as we are — and he will help us.
Show Me
You might be wondering where this is taught in God's word.  Good question.
In John 7:37 Jesus said "if anyone thirsts, let him come to me and drink."  So heart-thirst does not disqualify you from coming to Jesus.
In Matthew 11:28 Jesus said "come to me, all who labor and are heavy laden, and I will give you rest."  So weariness should not keep someone from coming to Jesus.
And in Psalm 34:18 David said "the Lord is near to the broken-hearted, and saves those who are crushed in spirit."  So sorrow and sadness do not exclude anyone from coming to Jesus.
Why Not?
It's because Jesus' sacrificial death can pay for all our guilt, and his perfect righteousness can cover all our sin.
So how can we get in on the benefits of Jesus' death?  By faith alone.
The way to connect yourself to Jesus' death and righteousness is by faith, which means trusting him to forgive our sins, change our hearts, and satisfy our longings in himself.
So when we feel completely unspiritual, we should not try to change our own hearts.  We should not wait to seek Christ until we feel more spiritual.
Instead, we should immediately turn to Christ by faith — asking him for help, confessing any sin, and feeding on his word — until we experience him coming to us and changing our hearts.
Let's Get Specific
What should you do when–
You are frustrated with your children?
Your heart is full of pride?
You are furious with someone?
You are consumed with greed?
You are filled with regret?
You feel like a failure?
Your future looks bleak?
You are wracked with guilt?
You are full of self-righteousness?
You are overwhelmed by what you have to do?
The answer is — come to Jesus as you are.  Turn to him by faith, longing for him to help you, and trusting him to help you.
He will.  Every time.
Powerful Song
And let this powerful worship song by David Crowder help you —
httpv://www.youtube.com/watch?v=BCXcL3xoy3o
Questions? Comments?
I'd love to hear them, although I might not be able to respond.  Leave a reply below —  thanks.
If you know someone this would help, email it to them using the "share" button below.  Or use the other buttons to share it on your favorite social media.
If you would like to interact with others who are seeking to live by faith in Christ, visit our Forums page.
If you would like to receive a Saturday email summarizing the week's posts — go to the top right of this page, fill in your email address, and click the "Submit" button.  (I will only use your email address for Living By Faith Blog communications, and you can easily unsubscribe at any time.)
And here are some related posts you might find helpful –