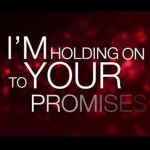 Fighting Fear
Throughout God's word we see that fear is overcome by faith  (Psalm 56:3; Isaiah 12:2; Matthew 8:26).
And faith means trusting all that God promises to be to us in Christ (Romans 4:20-21; 2 Corinthians 1:20).
And when we put those two truths together, we see that fear is overcome by trusting God's promises.
God's Promises
So the next time you are afraid, turn to Christ just as you are, confess your fear and unbelief, and be assured of his forgiveness through the Cross.
Then find promises in God's word that target your fear.  How do you learn God's promises?  Whenever you read a promise in the Bible, or hear someone mention a promise, jot down the reference, and add it to your list of verses to memorize.
Here are some promises I have found helpful –
Isaiah 41:10 – Fear not, for I am with you; be not dismayed, for I am your God; I will strengthen you, I will help you, I will uphold you with my righteous right hand.
2 Corinthians 4:17-18 – For this light momentary affliction is preparing for us an eternal weight of glory beyond all comparison, as we look not to the things that are seen but to the things that are unseen.
Psalm 50:15 – And call upon me in the day of trouble; I will deliver you, and you shall glorify me.
Philippians 4:19 — And my God will supply every need of yours according to his riches in glory in Christ Jesus.
John 6:35 – I am the bread of life; whoever comes to me shall not hunger, and whoever believes in me shall never thirst.
Psalm 56:3-4 – When I am afraid, I put my trust in you. In God, whose word I praise, in God I trust; I shall not be afraid. What can flesh do to me?
1 Peter 4:12-13 – Beloved, do not be surprised at the fiery ordeal among you, which comes upon you for your testing, as though some strange thing were happening to you; but to the degree that you share the sufferings of Christ, keep on rejoicing, so that also at the revelation of His glory you may rejoice with exultation.
Then, when you find helpful promises, ask God to strengthen your faith, and pray over those promises until you feel your faith strengthening and your fear shrinking.
Whom Shall I Fear?
And to help you overcome fear, here is a worship song that celebrates how fear is conquered by holding on to God's promises –
httpv://www.youtube.com/watch?v=qOkImV2cJDg
Questions?  Comments?
I'd love to hear them, although I might not be able to respond.  Leave a reply below — thanks.
If you know someone this would help, email it to them using the "share" button below.  Or use the other buttons to share it on your favorite social media.
If you would like to interact with others who are seeking to live by faith in Christ, visit our Forums page.
If you would like to receive a Saturday email summarizing the week's posts — go to the top right of this page, fill in your email address, and click the "Submit" button.  (I will only use your email address for Living By Faith Blog communications, and you can easily unsubscribe at any time.)
And here are some related posts you might find helpful –