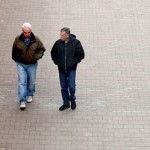 Battling Fear
Saturday morning a friend told me about a fear he was battling.
He needed to hire an administrative assistant for his business, but it was taking a long time, and any delay could cause major problems.
He told me that in the past, when fears came up, he had been able to battle through and trust God.  But not this time.
This time he was dealing with a fear he couldn't shake.
How to Help?
So how could I help?  I could –
sympathize with him
tell him I would pray for him
encourage him that he would surely find someone soon
brainstorm ways to speed up the hiring process
tell him that when the going gets tough, the tough get going
— and those would probably give him some encouragement.  But none of them would get to the root cause.
Why Not?
It's because the root cause of fear is unbelief — not trusting all that God promises to be to us in Christ.
You can see that in Psalm 112:7 — "He is not afraid of bad news; his heart is firm, trusting in the LORD."  So when we are afraid of bad news, the problem is that we are not trusting the Lord.
The same truth is taught in Isaiah 26:3 — "You keep him in perfect peace whose mind is fixed on you, because he trusts in you."  So when I lack peace, the problem is that I am not trusting God.
So the crucial question is – how can I help my friend trust God?
What's the Worst-Case?
To do this, I asked him what it was that he feared — what was the worst-case scenario?
He said he feared having time go by without an administrative assistant, because then his clients wouldn't be served as well, which could –
upset his clients,
and cause him to lose clients,
which would make him lose money, look bad to his peers, and forfeit prestigious positions he had gained as a result of past success.
Then we raised this question: in light of that worst-case scenario –
What Does God Promise?
We agreed that God does not promise a trial-free life.  (See Job 1:21, John 16:33, and 1 Peter 4:12-13, for example.)
So we asked: If God does not promise a trial-free life, what DOES he promise?
We focused on two main promises –
First, that Jesus Christ is our all-satisfying treasure — that when we know him, worship him, and trust him we will be so filled with joy that we desire nothing else – not clients, not prestigious positions, not anything.
You can see this promise in John 6:35, Philippians 3:8-9, and Habakkuk 3:17-18.
Second, that God will ordain all the events of our lives in such a way that they bring us the greatest joy in Christ.
You can see this promise in 2 Corinthians 4:17-18; Psalm 119:71; James 1:2-4.
So, if God chose to have my friend lose clients and prestigious positions, it would only be because this would bring him even more all-satisfying joy in Christ.
Battling Unbelief
Then we talked about how, if he was trusting those promises, he would be completely free from fear — because we only fear what we think will cost us joy.
In other words, if God's loving plan is to have losing clients bring him more of the heart-filling joy of knowing Christ, then he shouldn't fear losing clients.  Because why would you fear something that will bring you more heart-filling joy?
But the fact that he did fear losing clients shows that he is not trusting these promises.
He is not trusting Christ is his all-satisfying treasure (because he is trusting clients and prestigious positions as his all-satisfying treasure).
And he may also not be trusting that God will ordain every event in his life in such a way that it brings him the greatest joy in Christ.
So his root problem was unbelief, and because unbelief is so serious, he knew he needed to battle.
A Battle Plan
So we talked about how to battle unbelief, by —
turning to Christ with his unbelief,
confessing this unbelief as sin,
asking Christ to free his heart from trusting clients and positions as his joy,
meditating on Scriptures that display the majesty of Christ,
doing this until he once again sees and feels Christ as his all-satisfying treasure,
which will strengthen his faith and free him from fear.
Prayer
Then we prayed.  He prayed for me about needs I had shared.
And I prayed for him – that he would find his administrative assistant quickly, and that he would lose no clients or positions in the meantime.
But even more important, I prayed for his upcoming battle — that God would so fill him with joy in Christ that he would have no fear about losing clients or positions.
We both left strengthened and encouraged in Christ.
Questions?  Comments?
I'd love to hear them, although I might not be able to respond.  Leave a reply below — thanks.
If you know someone this would help, email it to them using the "share" button below.  Or use the other buttons to share it on your favorite social media.
If you would like to interact with others who are seeking to live by faith in Christ, visit our Forums page.
If you would like to receive a Saturday email summarizing the week's posts — go to the top right of this page, fill in your email address, and click the "Submit" button.  (I will only use your email address for Living By Faith Blog communications, and you can easily unsubscribe at any time.)
And here are some related posts you might find helpful –
(Picture is by zenobia_joy and is used by permission from compfight.)