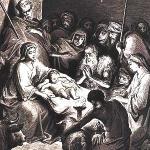 Worship at the Manger
Imagine being one of the shepherds kneeling at the manger.
You had just been out in the hills, watching over your flock.  But then an angel, shining with glory, appeared.
He said he had good news of a great joy that would be for all people.  And then he explained why –
For unto you is born this day in the city of David a Savior, who is Christ the Lord. (Luke 2:11)
Three Crucial Truths
Notice the three words the angel uses to describe this baby —
Savior – Because of his death and resurrection, by trusting him we can be forgiven for all our sins and brought into the all-satisfying joy of knowing God now and forever.
Christ – Christ means Messiah, the one who the Old Testament said would crush Satan's power and bring God's blessing to all people groups of the earth (Genesis 3:15; Genesis 12:3).
Lord – Which means God.  God has always been from eternity past, his power created the astonishingly vast universe, and his sovereignty controls everything. And this baby lying in the manger is God — God in the flesh.
But There's More
How will the shepherds find this baby?
And this will be a sign for you: you will find a baby wrapped in swaddling cloths and lying in a manger.  (Luke 2:12)
A manger?  A manger is a feeding trough for animals — in a barn – not very clean.
So why would he be the lying in a manger?  It's because all the hotels were full.
But even this is part of the plan.  If the Messiah had been born in some fancy hotel, we would wonder who we need to know, or what we need to do, in order to come to him.
But instead, the Messiah was born in a barn.  All of us are welcome at this barn.
That's why the glorious God of the universe was born in the lowliest setting on earth — so we all would know that we can come to him.
So Come — and Worship
One of my favorite Christmas worship songs is "O, Holy Night," because it invites us to fall on our knees in worship of Christ.
So let this song help you join the shepherds at the manger, kneeling in worship —
httpv://www.youtube.com/watch?v=PWfuoAmBgEs
Questions?  Comments?
I'd love to hear them.  Leave a reply below — thanks.
If you know someone this would help, email it to them using the "share" button below.  Or use the other buttons to share it on your favorite social media.
If you would like to interact with others who are seeking to live by faith in Christ, visit our Forums page.
If you would like to receive a Saturday email summarizing the week's posts — go to the top right of this page, fill in your email address, and click the "Submit" button.  (I will only use your email address for Living By Faith Blog communications, and you can easily unsubscribe at any time.)
And here are some related posts you might find helpful –
(Picture by Gustav Dore; in the public domain.)