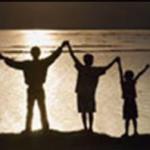 Beholding His Glory
Nothing is more important than seeing and feeling and worshiping God's glory as revealed in Jesus Christ.
Here's what I mean —
Glory Exists
Whether we feel him or not, see him or not, or believe in him or not – there exists a God whose glory is so beautiful, so spectacular, so awesome, that he alone can fully satisfy our hearts.
Creation
God has revealed his glory to us through creation —
The heavens declare the glory of God. (Psalm 19:1)
For his invisible attributes, namely, his eternal power and divine nature, have been clearly perceived, ever since the creation of the world, in the things that have been made. (Romans 1:20)
Sin
But because of our pride, all of us have knowingly refused to acknowledge his glory, and said No to worshiping him.  As a result, we face his wrath forever.
For the wrath of God is revealed from heaven against all ungodliness and unrighteousness of men, who by their unrighteousness suppress the truth …
So they are without excuse.  For although they knew God, they did not honor him as God or give thanks to him, but they … exchanged the glory of the immortal God for … a lie and worshiped and served the creature rather than the Creator, who is blessed forever! Amen.  (Romans 1:18-25)
Jesus Christ
But God came to earth in the person of Jesus Christ, to give us an even greater display of his glory.  And because of Christ's death and resurrection, when we trust him we are forgiven for the guilt of our sin, our hearts start to be freed from the power of sin, and we are filled with the joy of beholding his glory.
And the Word became flesh and dwelt among us, and we have seen his glory, glory as of the only Son from the Father, full of grace and truth. (John 1:14)
For Christ also suffered once for sins, the righteous for the unrighteous, that he might bring us to God… (1 Peter 3:18)
For God, who said, "Let light shine out of darkness," has shone in our hearts to give the light of the knowledge of the glory of God in the face of Jesus Christ. (2 Corinthians 4:6)
Transformation
It is by seeing and feeling God's glory in Christ that sin's power is broken, and we are transformed into Christ's image.
And we all, with unveiled face, beholding the glory of the Lord, are being transformed into the same image from one degree of glory to another. For this comes from the Lord who is the Spirit. (2 Corinthians 3:18)
Trials and Suffering
God promises that every trial will increase our joy in Christ's glory forever, as we let those trials focus our hearts on eternity.
 For this light momentary affliction is preparing for us an eternal weight of glory beyond all comparison, as we look not to the things that are seen but to the things that are unseen. (2 Corinthians 4:17-18)
The Second Coming
As much as we behold God's glory now, it's only like seeing through a mirror dimly compared to what we will experience in heaven.
For now we see in a mirror dimly, but then face to face. (1 Corinthians 13:12)
… waiting for our blessed hope, the appearing of the glory of our great God and Savior Jesus Christ. (Titus 2:11-13)
And the city has no need of sun or moon to shine on it, for the glory of God gives it light, and its lamp is the Lamb. (Revelation 21:23)
Nurture This
Nothing is more important than beholding God's glory.
So regularly take time to pray for the Spirit's work in your heart, and to open God's Word and set your mind on God's glory in Christ.
As you do this, you will have times when the Spirit enables you to see and feel God's very glory.  As a result –
You will taste the greatest joy in the universe.
You will experience the down-payment of your inheritance.
Temptations will lose their power.
You will be filled with love and compassion for others.
You will long to live to display God's glory in Christ.
Who Is Like Our God?
And here is a truth-filled worship song that helps me behold God's glory in Christ.
So pray for the Spirit's work.  Ponder the words of this song.
And behold his glory.
(The lyrics are not in the video, but I include them below.)
httpv://www.youtube.com/watch?v=2yV45kwWNPw
Lyrics
Who is like our God
Who is like our God
Holy and intimate, tender and strong
Patient and powerful
Who is like our God
Who is like our God
Who is like our God
Mighty and innocent, jealous and kind
Sovereign and merciful
Who is like our God
All of man's glory fades away
Like a spring flower in the rain
No fallen angel is worthy to be worshipped
Nor anything created
Who is like our God
Who is like our God
BRIAN DUANE, BRIAN DOERKSEN AND BRIAN THIESSEN
CCLI#1885656
©1995 Mercy/Vineyard Songs (ASCAP).
www.vineyardmusic.com
All rights reserved. International Copyright Secured. Used By Permission
Thoughts?  Comments?
I'd love to hear them.  Leave a reply below — thanks.
If you know someone this would help, email it to them using the "share" button below.  Or use the other buttons to share it on your favorite social media.
If you would like to interact with others who are seeking to live by faith in Christ, visit our Forums page.
If you would like to receive a Saturday email summarizing the week's posts — go to the top right of this page, fill in your email address, and click the "Submit" button.  (I will only use your email address for Living By Faith Blog communications, and you can easily unsubscribe at any time.)
And here are some related posts you might find helpful –