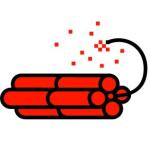 An Explosion Of Worship
When I am discouraged, tempted, or lukewarm, it's helpful to search my heart, discover pockets of unbelief, find promises to counter that unbelief, and pray over those promises until my faith is strengthened.
But sometimes instead of dealing with one unbelief at a time, I need to blow it all up with an explosion of worship.
Yesterday
That's what I needed yesterday.  To my shame, I have been falling into unbelief and discouragement because of some unanswered prayer.
So I have been praying over promises, setting my heart on various Scriptures, and fighting the fight of faith.
But I have not experienced much of the Spirit's heart-changing work.
So yesterday I took more extreme measures.  I grabbed the dynamite of Psalm 145, lit its fuse by praying for Spirit's power, and then stuffed it into my heart by reading it over slowly and prayerfully and worshipfully.
The fuse burned as I spoke the truth of who God is –
3 Great is the LORD, and greatly to be praised, and his greatness is unsearchable.
5 On the glorious splendor of your majesty, and on your wondrous works, I will meditate.
6 They shall speak of the might of your awesome deeds, and I will declare your greatness.
7 They shall pour forth the fame of your abundant goodness and shall sing aloud of your righteousness.
8 The LORD is gracious and merciful, slow to anger and abounding in steadfast love.
9 The LORD is good to all, and his mercy is over all that he has made.
It Worked
This didn't happen immediately.  It took a little while for the burning fuse to reach the dynamite.
But when it did, the dynamite of Psalm 145 blew up my stubborn unbelief.
Okay, it didn't feel quite that dramatic.  But I could tell that my heart was changed.
For the first time in a few days I was seeing, and feeling, the glory of God.
My unbelief was destroyed — because I saw God's goodness in my unanswered prayer.
My discouragement lifted – because I knew God was orchestrating everything for my eternal joy in him.
My sin was crushed – because I wanted God and his glory more than anything.
God's glory changes everything.
Try This
If you need an explosion of worship, grab the dynamite of God's word.  Light the fuse by asking for more of the Spirit's work in your heart.
Then stuff your heart full of that dynamite by reading God's word slowly, prayerfully, and worshipfully.
Continue this until the fuse of the Spirit hits the dynamite of the word, and the explosion of God's glory destroys your unbelief.
If it doesn't happen today, continue tomorrow.  You've prayed, the fuse is burning, you are putting the dynamite in place – so the explosion will happen.
That's what God promises, in Hosea 6:3, Romans 10:17, Jeremiah 29:13, John 4:13-14, John 6:35, John 7:37-38, and Galatians 3:5.
Trust him.
Comments?  Questions?
I'd love to hear.  Leave a reply below — thanks.
If you know someone this would help, email it to them using the "share" button below.  Or use the other buttons to share it on your favorite social media.
If you would like to interact with others who are seeking to live by faith in Christ, visit our Forums page.
If you would like to receive a Saturday email summarizing the week's posts — go to the top right of this page, fill in your email address, and click the "Submit" button.  (I will only use your email address for Living By Faith Blog communications, and you can easily unsubscribe at any time.)
And here are some related posts you might find helpful –
(Picture is from Microsoft Publisher clipart..)