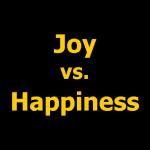 Joy vs. Happiness
Throughout the Bible God commands us to have joy in him.
You can see this in passages like Matthew 5:12, Romans 12:12, Philippians 3:1, and 1 Thessalonians 5:16.
But what does it mean to have joy in God?  I have heard people explain this by saying that joy in God is different from happiness.
But this is puzzling, because dictionaries say that joy IS happiness.
For example –
Joy is "the emotion of great delight or happiness." (Dictionary.com)
Joy is "great happiness or pleasure." (Cambridge Dictionary)
Joy is "a feeling of great happiness." (Merriam-Webster Dictionary)
So why do many Christians say joy and happiness are different?
Digging Deeper
I think one reason is because they are nervous about putting so much emphasis on feelings.
They know we are commanded to rejoice in the Lord always (Philippians 4:4).  But they also know how often they don't feel this joy, and that they can't make themselves feel this joy by an act of the will.
So to avoid this problem, they say that the joy God commands is different from happiness.  They say that happiness is a feeling that comes and goes.  But that joy in God is not really a feeling, but is more like a settled conviction that lasts.
But is that true?  In the Bible, is joy in God not a feeling?
More Joy Than They Have
Look at what David says in Psalm 4:6-7 —
There are many who say, "Who will show us some good? Lift up the light of your face upon us, O LORD!"  You have put more joy in my heart than they have when their grain and wine abound.
So is this joy that God puts in our hearts a feeling?  Notice that David uses the same word "joy" for what's in people's hearts when they have grain and wine.
So the question is, when people have abounding grain and wine is their joy a feeling?  Yes.
Therefore, since David uses the same word to describe what God puts in our hearts, that joy must also be a feeling.  And it is MORE joy, because the pleasures of knowing God are more — infinitely more — than the pleasures of grain and wine.
Joy over a Treasure
Notice also how Jesus uses the word joy in Matthew 13:44 –
The kingdom of heaven is like treasure hidden in a field, which a man found and covered up. Then in his joy he goes and sells all that he has and buys that field.
Here Jesus describes the joy a saved person has in the kingdom of heaven.  But is this joy a feeling?
It is, because Jesus compares our joy in God's kingdom with the joy a man has when he finds a treasure.
Imagine finding a treasure chest full of millions of dollars' worth of gold coins.  Would your joy be a feeling?  Absolutely.
So the joy we will have in God's kingdom is also a feeling.
What This Feeling Is
This feeling is not joy in our circumstances.  It is not a happy disposition, or a positive outlook.  It is not an overall sense of well-being.
But it is a feeling of joy in God as revealed in Jesus Christ.  It means experiencing pleasure and delight in his majesty, power, love, mercy, death, resurrection, and glory (Philippians 3:8).
That's the joy God commands us to have.
What This Does Not Mean
The fact that joy in God is a feeling does not mean we will never experience sorrow or grief.  Paul said his heart was "sorrowful, yet always rejoicing" (2 Corinthians 6:10).
So we will feel sorrow in this life – over our sin, our trials, the wayward, and the lost.  But Christ is such a treasure that at the same time we can also feel joy in him.
Nor does this mean our lives will be free from trials.  God promises that we will have trials (John 16:33).
So the reason we feel joy in Christ is not because we have no trials.  It's because he is worth all the trials (2 Corinthians 4:16-17).
This also does not mean we always have this joy.  We don't.  But we should, because no matter what else is going on, Jesus Christ is always an all-satisfying Treasure.
When we don't feel this joy, it's because we are trusting something else to satisfy us more than him.  Which is why we need the command to rejoice in the Lord always (Philippians 4:4).
How to Experience This
The joy we are commanded to have in Christ is definitely a feeling — of pleasure, satisfaction,  and delight in Christ.  But we know we can't make ourselves feel this by an act of the will.  So what can we do?
Confess.  When we lack joy in Christ it's because of our sin of unbelief.  So we must confess our sin, and what ever else we've been trusting to satisfy us more than Christ.  And by faith alone, in Christ alone, we can be fully assured of forgiveness (1 John 1:9).
Pray.  This feeling of joy only comes as the Holy Spirit helps us see and taste the glory of Christ.  And here's good news – when we ask for more of the Spirit's work, the Father will always give it to us (Luke 11:13).
Read.  This heart-changing work of the Spirit comes through the Word (John 6:63; Galatians 3:5).  As we pray over Scriptures describing all that God promises to be to us in Christ, the Spirit will enlighten the eyes of our hearts so we once again see and feel Christ as our all-satisfying Treasure.
At the right time, and in the exact amount that we need, God will enable us to rejoice in Christ.
And we will feel it.
Questions?  Comments?
I'd love to hear them.  Leave a reply below — thanks.
If you know someone this would help, email it to them using the "share" button below.  Or use the other buttons to share it on your favorite social media.
If you would like to interact with others who are seeking to live by faith in Christ, visit our Forums page.
If you would like to receive a Saturday email summarizing the week's posts — go to the top right of this page, fill in your email address, and click the "Submit" button.  (I will only use your email address for Living By Faith Blog communications, and you can easily unsubscribe at any time.)
And here are some related posts you might find helpful –