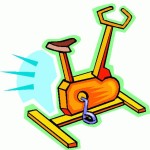 Worried, Fearful, and Anxious
I need wisdom for how to handle a relationship from way back in my past.
It's difficult, because I have no idea what to do, every option looks painful, and I need to do something soon.
So last week I found myself feeling worried,  fearful, and anxious about this.
What Can I Do?
God's word commands me to not be anxious about anything (Philippians 4:6), to fear not (Isaiah 41:10), and to let the peace of Christ rule in my heart (Colossians 3:15).
But how can commands like these be obeyed?  I can't just choose to stop being anxious or fearful, because feelings can't be changed by simple acts of will-power.
And yet God's perfectly true words command me to not be anxious or fearful.  So what can I do?
What AND How
The good news is that God not only tells us what to do; he also tells us how.
We can see that in Isaiah 26:3 –
You keep him in perfect peace whose mind is stayed on you, because he trusts in you.
Peace comes when my mind is stayed on God — clearly seeing and trusting who he is.  Which means lack of peace shows that I'm not clearly seeing and trusting God.
We can see the same truth in 2 Corinthians 3:18 —
And we all, with unveiled face, beholding the glory of the Lord, are being transformed into the same image from one degree of glory to another.
So who I am — including my feelings — can be transformed by beholding the glory of the Lord.  And when my feelings are not transformed, that shows I'm not beholding his glory.
Riding a Stationary Bike
Last week I was riding a stationary bike.  And as I rode I felt worry, fear, and anxiety about this long-past relationship — which showed that I was not seeing and trusting Christ.
So I turned my heart to him, just as I was.  I confessed my worry, fear, and anxiety as willful blindness and sinful unbelief.
And even though this sin was still in my heart, I knew that by faith alone in Christ alone I was forgiven, clothed with Christ's perfect righteousness, and welcomed and loved for his sake.
Then I prayed and asked the Father for more of the Spirit's transforming work in my heart.  I quoted Luke 11:13 to strengthen my faith that he would answer.
Seeing Christ
Then I reminded myself that faith means trusting all that God promises to be to me in Christ.  And how my feelings of worry, fear, and anxiety showed that I was NOT trusting all that God promises to be to me in Christ.
So I set my heart on Jesus as he is revealed in God's word, trusting that as I did this, the Spirit would change my heart (2 Corinthians 3:18).
I thought about how —
Jesus would give me all the wisdom I need (James 1:5),
he is in sovereign control of this situation (Mark 4:39),
he has ordained this situation to bring me even more joy in him (2 Corinthians 4:17),
he will provide every need I face through this situation (Philippians 4:19),
and how I can trust him completely because he has loved me to the extent of giving himself up for me (Galatians 2:20).
As I set my heart on these truths, I kept praying that the Spirit would enlighten the eyes of my heart so I could see and feel the glory of Christ in these truths (Ephesians 1: 17-18; 2 Corinthians 4:6).
What God Did
In great mercy, the Father answered my prayer.
It's hard to explain.  And I want to be clear that I don't usually experience God working this quickly or dramatically.
But I'll share what God did, to magnify his mercy, and to encourage your faith.
As I set my heart prayerfully on the truth of Jesus Christ, I slowly felt the Holy Spirit start to change me.
With the eyes of my heart I started to see and feel the truth that Christ was my sovereign, loving, all-satisfying wisdom-giver.
He was real.  He was true.  He was glorious.
And seeing him in his glory —
strengthened my faith,
calmed my fears,
overcame my worries,
filled me with peace,
and satisfied me in him.
Questions?  Comments?
I'd love to hear them.  Leave a reply below — thanks.
If you know someone this would help, email it to them using the "share" button below.  Or use the other buttons to share it on your favorite social media.
If you would like to interact with others who are seeking to live by faith in Christ, visit our Forums page.
If you would like to receive a Saturday email summarizing the week's posts — go to the top right of this page, fill in your email address, and click the "Submit" button.  (I will only use your email address for Living By Faith Blog communications, and you can easily unsubscribe at any time.)
And here are some related posts you might find helpful –