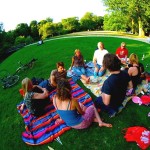 No Lone Rangers
It's true that everything we need for living by faith is found in Christ.
But that does not mean we should try to live the Christian life on our own.
There may be times when we don't have much encouragement from others, and at those times Christ will give us all the grace we need.
But God wants us to be part of Christ's body – which means being part of a community of believers who help each other live by faith, and to work together to bring others to faith.
How Do We Do That?
Not all fellowship helps people live by faith.  Too much fellowship is just talking politics, or sports.
So what can we do to encourage fellowship that actually strengthens our faith in Christ?
Here are some blog posts that touch on this topic, and that I hope will encourage you.
How Can I Help Others Grow in Faith?
Here are two questions we use in our home groups to help us grow in faith.
How to Help Someone Who Lost His Job
Last week a young man in our church lost his job. I gathered some men to encourage and pray with him. Here's what happened.
Fellowship Must Strengthen Our Faith, Not Just Lift Our Feelings
If the goal of our fellowship is just to make each other feel better, the results could be tragic. Here's why.
"God Healed Me from Panic Attacks"
God healed a young woman in our church from panic attacks. Here's her encouraging story.
Questions?  Comments?
I'd love to hear them.  Leave a reply below — thanks.
If you know someone this would help, email it to them using the "share" button below.  Or use the other buttons to share it on your favorite social media.
If you would like to interact with others who are seeking to live by faith in Christ, visit our Forums page.
If you would like to receive a Saturday email summarizing the week's posts — go to the top right of this page, fill in your email address, and click the "Submit" button.  (I will only use your email address for Living By Faith Blog communications, and you can easily unsubscribe at any time.)
(Picture is from everystockphoto.com by Will_Hybrid.)