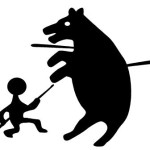 Tendinitis
For a couple months I've had tendinitis in my right wrist, brought on by doing some landscaping in our front yard.
I went to the doctor, and as a result of following the doctor's recommendations the pain is lessening.
At least I think it is.  It 's a slow process.  Frustratingly slow.  Exasperatingly slow.  Will-it-ever-get-better slow.
You get the picture.
Half-Hearted Resistance
So yesterday afternoon I was walking and praying by the creek.
And once again I prayed about my wrist.  I thanked God for the doctor, for the treatment I had received, and for the progress I was making.
Then I asked The Father for complete healing, mentioning that I had a mission trip coming up, and how helpful it would be to have full use of my wrist by then.
But as I prayed I could tell there was unbelief in my heart.  Lurking in the back of my mind were thoughts like —
Why did God let this happen?
How can this be a good thing?
Why does healing have to take so long?
I knew this was wrong, so I fought back – sort of.  I confessed my unbelief – kind of.  I preached some promises to myself — a little.
I resisted my sin half-heartedly, and then I went on to review my memory verses.
Holy Spirit Conviction
But when I came to Romans 8:12-13, the Holy Spirit convicted me –
So then, brothers, we are debtors, not to the flesh, to live according to the flesh.  For if you live according to the flesh you will die, but if by the Spirit you put to death the deeds of the body, you will live.
And it struck me –
I am called to put sin to death.
By the Spirit's power I CAN put sin to death.
In order to live, I MUST put sin to death.
But I had not been putting my sin to death.  I was letting unbelief about my wrist fester in my heart.  For weeks I had put up with low-grade grumbling about my wrist.
I never fell into full-blown anger against God, or despair about my situation.  But I had not taken my grumbling seriously.
I had not admitted that this grumbling was sinful unbelief.  I had not launched a full-scale battle against this unbelief and — by the Spirit's power — put it to death.
Instead, I had given only half-hearted resistance — just enough to lessen the unbelief, but not enough to destroy it.
It was time for war.
To the Death
So I turned to Christ just as I was, telling him that I trusted his shed blood to pay for the guilt of my sin, and his perfect righteousness to cover my remaining sin.
Then I confessed my unbelief —
That I was not trusting that my wrist problem was God's servant for my good (Psalm 119:91).
That I was trusting the joys of a healthy wrist to satisfy me, more than the joys of knowing Christ (Philippians 3:8-9).
That I was accusing God of not being sovereign, or of not being loving, or both (Exodus 4:11; Romans 8:32).
It was sobering to see how much unbelief I had inside me.
But there is good news — faith is a supernatural gift from God which he gives when we earnestly pray, and when we meditate on Scripture (Ephesians 2:8-9; Mark 9:24; Romans 10:17).
So I prayed and asked God to overcome my unbelief, and strengthen my faith, by the power of the Spirit.
Then I prayed over 2 Corinthians 4:17-18 —
For this light momentary affliction is preparing for us an eternal weight of glory beyond all comparison, as we look not to the things that are seen but to the things that are unseen.
 And I preached this verse to myself —
Listen, Fuller, the all-satisfying joy of the universe is beholding Jesus' glory.  Nothing else comes close.  Nothing.
And God has promised that, if you will let it draw you to him, this wrist pain will give you more joy in beholding Jesus' glory forever.
Which means that for as long as you have it, this wrist-pain is a gift to you of more all-satisfying joy in Christ forever.
Killing Unbelief
As I prayed, and preached to myself, I slowly experienced the Spirit changing my heart.
I once again saw and felt Christ as my all-satisfying Treasure.
I knew that more of Christ was worth wrist-pain, or whatever other suffering God might bring.
I saw that my future – whether it meant wrist-pain or not – was bright, because whatever happened would bring me more of Christ.
By the Spirit's power, I had put unbelief to death.  My heart was changed.  My grumbling was gone
Kill It
So don't settle for half-hearted resistance.
When you discover unbelief in your heart, wage full-scale war, and KILL it.
Questions?  Comments?
I'd love to hear them.  Leave a reply below — thanks.
If you know someone this would help, email it to them using the "share" button below.  Or use the other buttons to share it on your favorite social media.
If you would like to interact with others who are seeking to live by faith in Christ, visit our Forums page.
If you would like to receive a Saturday email summarizing the week's posts — go to the top right of this page, fill in your email address, and click the "Submit" button.  (I will only use your email address for Living By Faith Blog communications, and you can easily unsubscribe at any time.)
And here are some related posts you might find helpful –
(The picture is from Microsoft Publisher Clip-art.)