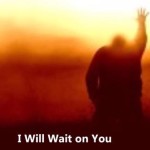 Unanswered Prayer
Last week I wrote a blog post in which I shared promises that strengthen my faith when I have unanswered prayer.
So today, I thought I would follow-up by sharing a worship song by Shane and Shane based on Psalm 13.
Two Dangers
When we pray about something important to us, without receiving an answer from God, we face two dangers.
One is that we turn to God with a bitter heart.  In this case, it's good that we are turning to God and praying.
But our bitterness shows that we are no longer trusting God's wisdom, goodness, and power.  Instead, we are believing that we know what's best better than God, and in our hearts we are accusing God of being unloving.
The other danger is that we turn from God with a discouraged heart.
This turning from God shows that we no longer trust that the nearness of God is our all-satisfying good (Psalm 73: 28).
And our discouragement shows that we no longer believe God's promise regarding persevering in prayer (like Luke 11:8).
David's Example
In Psalm 13 David avoids both of these dangers.
He starts by humbly and honestly telling God how much he is struggling with God's delays –
How long, O LORD? Will you forget me forever? How long will you hide your face from me? How long must I take counsel in my soul and have sorrow in my heart all the day? How long shall my enemy be exalted over me?  (Psalm 13:1-2)
Then he asks God to light up his eyes – which I think means to strengthen his faith so he once again sees and feels God's beauty, majesty, love, and wisdom –
Consider and answer me, O LORD my God; light up my eyes, lest I sleep the sleep of death, lest my enemy say, "I have prevailed over him," lest my foes rejoice because I am shaken.  (Psalm 13: 3 – 4)
He ends by affirming that he is trusting God's steadfast love.  He knows that as a result his heart will rejoice in God's salvation, and he will end up singing over God's bounty to him –
But I have trusted in your steadfast love; my heart shall rejoice in your salvation. I will sing to the LORD, because he has dealt bountifully with me.  (Psalm 13: 5 – 6)
Ask God to Help You
If you have been struggling to trust God with unanswered prayer, ask him to help you.
Turn it to him, relying on Christ's shed blood and perfect righteousness to give you a loving welcome at the throne of grace.
Confess any unbelief that's in your heart, and ask him to strengthen your faith.
Then pray and ponder and meditate on the words of this worship song.
(The video makes some mistakes on the lyrics; I've included the correctly lyrics below.)
httpv://www.youtube.com/watch?v=P87pOV-tdq0
How long oh Lord will You forget me
how long oh Lord will You hide
hide Your face from me
how long must i wrestle with me
and everyday have sorrow in my heart
sorrow in my heart
i will wait on You
i will wait on You
i will wait on You
look on me Lord and answer me
give my eyes light or i will sleep in death
i will sleep in death
my enemies say "i will overcome him"
and my foes rejoice even when i fall
i dont want to fall
for i will trust in Your unfailing love
my heart rejoices in Your salvation
i will sing to the Lord
Questions?  Comments?
I'd love to hear them.  Leave a reply below — thanks.
If you know someone this would help, email it to them using the "share" button below.  Or use the other buttons to share it on your favorite social media.
If you would like to interact with others who are seeking to live by faith in Christ, visit our Forums page.
If you would like to receive a Saturday email summarizing the week's posts — go to the top right of this page, fill in your email address, and click the "Submit" button.  (I will only use your email address for Living By Faith Blog communications, and you can easily unsubscribe at any time.)
And here are some related posts you might find helpful –