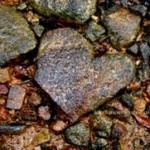 Full of Fear
To avoid future strokes, I'm going to have a small hole in my heart closed up.
It's not open-heart surgery; they go through a blood vessel in my leg.  But still, there's risks, and Monday (once again) I was full of fear that the procedure would go terribly wrong.
I know there's no reason to fear, because God is in control, and whatever he chooses to have happen will bring me more joy in his glory forever (2 Corinthians 4:17).
But to have this promise remove fear, I need to be desiring God's glory more than a problem-free procedure, more than earthly life, more than anything.
But sadly, Monday I had little desire for God's glory.  Which was why I felt fear.
Unfeeling Heart
I had gone out to the creek near our house to pray.  I had been battling fear by praying over 2 Corinthians 4:17 — that whatever happens will bring me more joy in God's glory forever.
But even though I was earnestly praying, the fear remained.  So I tried praying some other verses about fear, like Isaiah 41:10, and Psalm 56:3-4.  But no change.
And then, like I said, I saw the problem.  What frees us from fear is (1) knowing that God will only allow trials that bring us more of his glory , and (2) loving and desiring and wanting his glory more than anything.
But I did not want his glory more than anything.  I had little desire for God's glory.  My heart was unfeeling.
What to Do?
It was sobering to see the state of my heart.  But God brought to mind Scriptures that gave me hope that God could change my heart.  Scriptures like —
"I dwell … with him who is of a contrite and lowly spirit, to revive the spirit of the lowly, and to revive the heart of the contrite." (Isaiah 57:15)
And —
"The law of the LORD is perfect, reviving the soul." (Psalm 19:7)
 And —
So faith comes from hearing, and hearing through the word of Christ. (Romans 10:17)
To the Word
So, in a fresh way, I turned to God through Jesus Christ.  I trusted him to forgive me, change me, help me.
I confessed my unbelief and hardness of heart, and asked him to use his Word to revive my soul and strengthen my faith.
Then I started praying through the next memory verses in my packet, and other Scriptures that God brought to mind.  To the best of my recollection, here are the Scriptures I found helpful —
Jeremiah 24:7 —
I will give them a heart to know me, for I am the LORD. (New American Standard Version)
That strengthened my faith that God has the power to change my heart so I desire him more than anything.
Daniel 7:14 — 
And to [the Son of Man — Jesus] was given dominion and glory and a kingdom, that all peoples, nations, and languages should serve him; his dominion is an everlasting dominion, which shall not pass away, and his kingdom one that shall not be destroyed.
That helped me see the glory of Christ, Savior of men and women from every nation, tongue, and tribe, who will be worshiped by the redeemed forever and ever and ever.
2 Corinthians 9:8 —
And God is able to make all grace abound to you, so that having all sufficiency in all things at all times, you may abound in every good work.
That helped me see that whatever happens, God will give me all the grace I need to be faithful to him, rejoice in him, glorify him.
What Happened
As I prayed over these and other Scriptures, I could tell that my heart was changing.
I don't want to overstate it.  I have had times when I felt Christ's glory more intensely.
But God did change my heart.  I saw, and loved, the glory of Christ.  I trusted him.  Worshiped him.
I knew he loved me, and that whatever he chose to do, he would give me all the grace I needed to experience all the joy in him he promised.
As a result, the fear was gone, replaced by peace, and strength, in him.
Don't Settle
God is a deeply-loving, perfectly-wise, and all-powerful heart-specialist.  So don't settle for an unfeeling heart.
Bring your heart to him, by means of the Word and prayer.  He will revive you.
He promises.
Comments?  Feedback?
I'd love to hear them.  Leave a reply below — thanks.
If you know someone this would help, email it to them using the "share" button below.  Or use the other buttons to share it on your favorite social media.
If you would like to interact with others who are seeking to live by faith in Christ, visit our Forums page.
If you would like to receive a Saturday email summarizing the week's posts — go to the top right of this page, fill in your email address, and click the "Submit" button.  (I will only use your email address for Living By Faith Blog communications, and you can easily unsubscribe at any time.)
And here are some related posts you might find helpful –
(Picture is from everystockphoto.com by Felix Francis.)