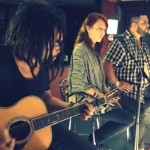 Christ Is Enough
The first line of this song says it all —
Christ is my reward.
Not what Christ GIVES to you.  But who Christ IS to you.
The reward is Christ himself — knowing him, worshiping him, beholding him, fellowshiping with him.
He Is the Prize
That's the message of the New Testament —
It was for this He called you through our gospel, that you may gain the glory of our Lord Jesus Christ. (2 Thessalonians 2:14)
… the God of all grace, who has called you to his eternal glory in Christ … (1 Peter 5:10)
… set your hope fully on the grace that will be brought to you at the revelation of Jesus Christ. (1 Peter 1:13)
[We are] waiting for our blessed hope, the appearing of the glory of our great God and Savior Jesus Christ … (Titus 2:13)
To them God chose to make known how great among the Gentiles are the riches of the glory of this mystery, which is Christ in you, the hope of glory. (Colossians 1:27)
For God, who said, "Let light shine out of darkness," has shone in our hearts to give the light of the knowledge of the glory of God in the face of Jesus Christ. (2 Corinthians 4:6)
Everything Changes
When God saves us he frees us from Satan's blinding power so that for the first time we can see and feel the glory of God in Christ (2 Corinthians 4:3-6).
And when we see and feel the glory of God in Christ, everything changes.
We know — there is something, SOMEONE, of infinite, perfect beauty.
We desire — to know him, love him, worship him more and more.
We are willing — to battle any sin, suffer any trial, give up any earthly good, to see and display his glory.
We long — to live for his glory by encouraging fellow believers, and by taking the good news of his glory to our neighbors and the nations.
"Christ Is Enough"
So let this song stir you with the glory of Jesus Christ, and the good news is that he is your reward, now and forever —
httpv://www.youtube.com/watch?v=V9fTw9MLKAo
(HT: Patty Madden)
Comments?  Feedback?
I'd love to hear them.  Leave a reply below — thanks.
If you know someone this would help, email it to them using the "share" button below.  Or use the other buttons to share it on your favorite social media.
If you would like to interact with others who are seeking to live by faith in Christ, visit our Forums page.
If you would like to receive a Saturday email summarizing the week's posts — go to the top right of this page, fill in your email address, and click the "Submit" button.  (I will only use your email address for Living By Faith Blog communications, and you can easily unsubscribe at any time.)
And here are some related posts you might find helpful –