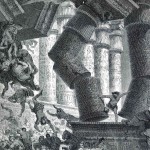 Despair, Fear, And Hopelessness
That's what I felt a few days ago.
I had received news about someone I care about who had made unfortunate choices, and was suffering painful consequences.
At times like this, faith in Christ will fill us with compassion so we weep with those who weep (Romans 12:15; Galatians 5:6).
But a few days ago I let unbelief get the upper hand, and instead of compassion, felt overwhelming despair, fear, and hopelessness about this person's situation.
These emotions were so powerful that I could not imagine being freed from them.
God's Promises
But one result of writing this blog, with its emphasis on God's promises, is that I am turning to God's promises more quickly.
So — to fight the fight of faith, I thought about how God promises that he can change my heart —
He restores my soul.  (Psalm 23:3)
I waited patiently for the LORD; he inclined to me and heard my cry. He drew me up from the pit of destruction, out of the miry bog, and set my feet upon a rock, making my steps secure. He put a new song in my mouth, a song of praise to our God. (Psalm 40:1-3)
May the God of hope fill you with all joy and peace in believing, so that by the power of the Holy Spirit you may abound in hope. (Romans 15:13)
But this heart-change does not happen automatically.  God promises to change our hearts as we pray —
Create in me a clean heart, O God, and renew a right spirit within me. (Psalm 51:10)
"I believe, help my unbelief." (Mark 9:24)
— and as we meditate on his Word —
The law of the Lord is perfect, reviving the soul. (Psalm 19:7)
"If you abide in my word, you are truly my disciples, and you will know the truth, and the truth will set you free." (John 8:31-32)
Prayer — And A Powerful Scripture
So I decided to take some time to walk and pray by a creek near our home.  Like I said, my faith was not strong.  I was feeling waves of despair, hopelessness, and fear for this person's plight.
So I prayed and asked God to help me.  I asked him to strengthen my faith and change my heart.  I asked him to direct me to Scriptures which would help.
And then God brought a verse to mind about Samson, who chose to disobey God and marry a Philistine woman instead of a godly woman from Israel.
But his father and mother said to him, "Is there not a woman among the daughters of your relatives, or among all our people, that you must go to take a wife from the uncircumcised Philistines?" But Samson said to his father, "Get her for me, for she is right in my eyes." (Judges 14:3)
Samson's father and mother would rightly have been heartbroken, because Samson was dishonoring God, and would bring great pain to himself.
But the author wants us to understand that along with the heartbreak, along with the sorrow, they could trust that God had a purpose even for this.  That's the point of the next verse —
His father and mother did not know that it was from the LORD, for he was seeking an opportunity against the Philistines. (Judges 14:4)
There's mystery here — and questions I can't answer.  Samson had willingly chosen to do wrong.  Samson was responsible for his wrong.  But Samson's decision was "from the Lord," which means God purposefully allowed it in order to bring about His good and glorious purposes.
But this verse is only talking about one person — Samson.  Can I apply it to my friend's situation?  Yes.  Other passages teach that God's sovereignty covers everything that happens.  I see this, for example, in Isaiah 45:5-7; Proverbs 21:1; Ephesians 1:11; Amos 3:6; Job 1:21; and Job 2:10.
What God Did
So I quoted Judges 14:3-4 to myself, especially the truth that Samson's tragic decision "was from the Lord, for he was seeking an opportunity against the Philistines."
Usually, when I pray over Scriptures, it takes a while for me to feel the Spirit changing my heart.
But this time, it was almost instantaneous.  
That phrase "it was from the Lord," changed how I saw what was happening to my friend.  Instead of seeing his action only as a sinful choice that was bringing pain, I saw that it also was something purposefully allowed by God which would ultimately display God's glory.
I also prayed that God would change my friend's heart so his future choices would be different.  But it brought me great comfort to see that even the wrong and painful choice he had already made would — in some way — glorify God.
As I quoted the phrase "it was from the Lord," I could feel the Spirit strengthening my faith.  God used that truth to destroy the despair, hopelessness, and fear — and fill me with peace and hope.
Heart Surgery
The Christian life is a fight to trust all that God promises to be to us in Christ Jesus.
It's a fight, because our sin constantly tries to fill our hearts with unbelief.  And when our hearts are filled with unbelief, and we feel despair or lust or revenge, it can feel like our hearts will never change.
But there's good news.
God is an all-powerful heart-surgeon.  If we will turn to him as we are, trusting Christ's death for our forgiveness, he will immediately welcome us.
And as we cry out to him for help, and pray over his Word, he will go to work and transform our hearts.
So when you feel overwhelmed with unbelief, don't be passive.  Don't succumb.
God will be your all-powerful heart-surgeon.
Call on him.
Questions?  Comments?
I'd love to hear them.  Leave a reply below — thanks.
If you know someone this would help, email it to them using the "share" button below.  Or use the other buttons to share it on your favorite social media.
If you would like to interact with others who are seeking to live by faith in Christ, visit our Forums page.
If you would like to receive a Saturday email summarizing the week's posts — go to the top right of this page, fill in your email address, and click the "Submit" button.  (I will only use your email address for Living By Faith Blog communications, and you can easily unsubscribe at any time.)
And here are some related posts you might find helpful –
(Picture is by Gustav Dore and is in the public domain.)