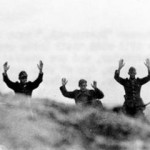 Surrender To Christ
We know it's important to surrender every part of our lives to Christ, and hold nothing back.
But this is not easy.
Maybe you have a girlfriend, and are afraid that Christ wants you to end the relationship.  Or you love your career, but wonder if Christ has other plans.  Or you are devoted to a hobby, which Christ might call you to give up.
So What Can We Do?
Sometimes we just try harder.  We will ourselves to surrender everything, we determine to surrender everything, we try to make ourselves surrender everything.
But it doesn't work.
So we try a different approach, telling ourselves how wrong it is not to surrender.  We remind ourselves that since Christ surrendered everything for us, we ought to surrender everything to him.
This might make us feel guilty, but it doesn't change our hearts.  So what can we do?
The Treasure In The Field
Jesus tells us in Matthew 13:44 —
The kingdom of heaven is like treasure hidden in a field, which a man found and covered up. Then in his joy he goes and sells all that he has and buys that field.
Notice that this man sells and surrenders everything, so he can buy the field.  And this is not hard for him.  As Jesus says — he does it with joy.
How can he do that?
Let's get specific.  Maybe the field sells for $5,000, and to buy it he has to sell his $3,500 Honda Civic, his $800 tool collection, his $500 stereo system, and his baseball cards.
So how can he sell all of this with joy?  It's because he sees, not just the field, but the treasure.  He knows that the treasure in the field is worth millions.  He knows the treasure he gains will far surpass whatever he has lost.
Back To Us
So — why is it hard for us to surrender everything?
It's because all we see is the vacant lot.  We do not see the Treasure in the field.
Why sell my Honda Civic, tools, stereo system, and baseball cards — for a vacant lot?  That would be hard.
But if we saw the multi-million dollar Treasure in the field, we would have no problem surrendering everything.
So that's the problem.  We do not believe Jesus is an all-satisfying Treasure.  We do not think the joy we will have in him far surpasses anything we would give up.
We are not seeing the Treasure.
So What Can We Do?
How can we see what we aren't seeing?
Not by will-power.  Not by making ourselves feel guilty.  Neither of those will change our hearts.
There's only one way our hearts can change; by the power of the Holy Spirit.  We need the Holy Spirit to free us from our blindness so we once again see — and feel — that Jesus is our all-satisfying Treasure.
So turn to Jesus Christ as you are, in your spiritual blindness.  Trust that his death on the Cross has forgiven you (John 19:30).  Trust his resurrection power to free you (Ephesians 1:19-20).  Understand that by faith alone in Christ alone you will receive everything you need (Ephesians 2:8-9).
Pray for more of the Spirit's heart-changing work (Luke 11:13).  Understand that you cannot change your own heart — but the Holy Spirit can (Luke 18:27).  So pray earnestly for more of the Spirit's work.
Then, since the Spirit uses the sword of the Word to cut away spiritual blindness (Ephesians 6:17), find passages displaying the all-satisfying glory of Christ.  Recently I've used John 19:30 (Jesus' finished work), John 19:26-27 (Jesus' love for others even while suffering),  Revelation 5:11-12 (thousands of thousands worshiping Christ), and Philippians 2:5-11 (Jesus' humiliation and glorification).
Pray over these passages, thinking deeply about Jesus, seeking to see Jesus, and trusting God's promise to change your heart.
It will be just a matter of time before you feel your heart start to change.  It may be gradual.  But you will start to see and feel the glory of Jesus Christ.  And as you do, you will find your heart fully and overflowingly satisfied (John 6:35; John 7:37-38).
You will see the Treasure in the field — an infinitely valuable, all-satisfying, ever-increasing Treasure.
And you will gladly surrender everything — to gain him.
Comments?  Questions?
I'd love to hear them.  Leave a reply below — thanks.
If you know someone this would help, email it to them using the "share" button below.  Or use the other buttons to share it on your favorite social media.
If you would like to interact with others who are seeking to live by faith in Christ, visit our Forums page.
If you would like to receive a Saturday email summarizing the week's posts — go to the top right of this page, fill in your email address, and click the "Submit" button.  (I will only use your email address for Living By Faith Blog communications, and you can easily unsubscribe at any time.)
And here are some related posts you might find helpful –
(Picture is from everystockphoto by soldiersmediacenter.)