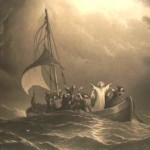 Peace In The Storm
Every follower of Jesus Christ faces storms.  Maybe it's job uncertainty, health problems, ministry setbacks, or parenting concerns.
And those howling winds, driving rain, and crashing waves threaten to sink us — and we can be filled with fear.
"Peace! Be Still!"
The disciples felt this fear.
They were in a boat, crossing to the other side of the sea.  Jesus was asleep in the back, when a great windstorm arose, kicking up waves that broke into the boat so it was filling with water (Mark 4:37).
And — no surprise — the disciples were terrified.  They woke Jesus up: "Do you not care that we are perishing?"
Then Jesus got up, rebuked the wind, and said to the sea "Peace!  Be still!"
And what happened?  "The wind ceased, and there was a great calm" (Mark 4:39).
And Jesus said to his disciples, "Why are you so afraid?  Have you still no faith?" (Mark 4:40).
Lord Over The Storm
We do not need to fear the storms of life, because Jesus, the Lord of every storm, is with us.
He's not worried.  He is not frightened.
He is in sovereign control of wind and waves — and cancer cells, job security, ministry disappointments, and everything else.
And in every storm we face, what he speaks brings great calm.
Sometimes, as with the disciples, he commands the storm to cease.
But at other times, he allows the storm to continue.  But even then, we can have great calm, because we are not alone.
He is with us in the boat, giving us such closeness with him that we are strengthened and secured and satisfied — in him.
Cornerstone
That's the message of this powerful worship song.
It's based on the hymn "My Hope Is Built," which was written by Edward Mote in 1834.
The lyrics present truth about Jesus Christ which will give us great calm in every storm —
My hope is built on nothing less than Jesus' blood and righteousness.
No matter how much I have sinned, by faith alone I am reconciled to God, and all his promises are true for me — forgiveness (1 John 1:9), provision (Matthew 6:33), strength (Philippians 4:13), wisdom (James 1:5), heart-satisfaction (John 6:35).
I dare not trust the sweetest frame, but wholly trust in Jesus' name. 
We don't trust our feelings to earn us standing before God.  We come to God as we are, and wholly trust in Jesus' name, knowing that we are accepted no matter how unspiritual we are feeling.
When darkness hides his lovely face, I rest on his unchanging grace.
Sometimes we can't see the glory of God in the face of Christ.  But we don't despair — we just keep trusting his unchanging grace.
In every high and stormy gale, my anchor holds within the veil.
Picture a boat facing gale-force winds, which could drive it into the rocks.  But when a boat is anchored, the anchor keeps the boat from moving.
When we face storms, we have an anchor — our hope in God's promises (Hebrews 6:18-19).  This hope brings us within the veil of God's very presence.  That's where we will find great calm, no matter how strong the storm.
So listen to this song prayerfully, and let the truth of who God is in Christ bring you great peace in the storm.
httpv://www.youtube.com/watch?v=QvLxZEU02uI
Comments?  Questions?
I'd love to hear them.  Leave a reply below — thanks.
If you know someone this would help, email it to them using the "share" button below.  Or use the other buttons to share it on your favorite social media.
If you would like to interact with others who are seeking to live by faith in Christ, visit our Forums page.
If you would like to receive a Saturday email summarizing the week's posts — go to the top right of this page, fill in your email address, and click the "Submit" button.  (I will only use your email address for Living By Faith Blog communications, and you can easily unsubscribe at any time.)
And here are some related posts you might find helpful –
(Picture is by Gustav Dore and is in the public domain.)