Wisdom From God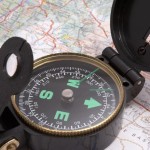 We often face big decisions about career, job-change, school-choice, and marriage.
Because these decisions are huge, we can fear that we will make the wrong choice or won't know what to do.
But the good news is that God promises to give us the wisdom we need for every decision we have to make.
So it's crucial to fight the fight of faith by praying over God's promises until this fear is conquered, and we can peacefully seek and wait on God for the wisdom he will give.
To help you do this, here is a list of God's promises about wisdom and guidance —
Psalm 23:1-3
The LORD is my shepherd; I shall not want. He makes me lie down in green pastures. He leads me beside still waters. He restores my soul. He leads me in paths of righteousness for his name's sake.
We are sheep who don't know which way to go.  But Jesus Christ is the Good Shepherd.  Just like a shepherd leads his sheep, so Jesus promises to lead us in paths of righteousness.
Psalm 25:8-9
Good and upright is the LORD; therefore he instructs sinners in the way. He leads the humble in what is right, and teaches the humble his way.
God instructs sinners in the way.  That's you and me.  So sin does not disqualify us.  If we confess our sin before Christ, and trust his death to pay for our sins — we can be assured that he will instruct and lead us.
Psalm 16:11
You make known to me the path of life; in your presence there is fullness of joy; at your right hand are pleasures forevermore.
No matter how bleak your options look, God has a path that will give you life — the life of joy in his presence.  And he promises to make this path known to you.
Isaiah 58:10-11
… if you pour yourself out for the hungry and satisfy the desire of the afflicted, then shall your light rise in the darkness and your gloom be as the noonday. And the LORD will guide you continually and satisfy your desire in scorched places and make your bones strong; and you shall be like a watered garden, like a spring of water, whose waters do not fail.
If we have genuine faith in Christ, which means the kind that stirs us to help the needy, then God promises to guide us continually.
Psalm 139:23-24
Search me, O God, and know my heart! Try me and know my thoughts! And see if there be any grievous way in me, and lead me in the way everlasting!
It's important to ask God to show us our sin, so that through the Cross we can receive forgiveness from guilt and strength to fight.  As we do this we can be assured that God will lead us in the way of everlasting joy in him.
James 1:5
If any of you lacks wisdom, let him ask God, who gives generously to all without reproach, and it will be given him. 
Whenever we lack wisdom, if we ask God, he will always give the wisdom we need.  And he will do this generously and without reproaching us for asking.
Isaiah 48:17
Thus says the LORD, your Redeemer, the Holy One of Israel: "I am the LORD your God, who teaches you to profit, who leads you in the way you should go.
God teaches us to profit — not in health and wealth, but in seeing and showing more of Christ's glory.  And God promises to lead us in the way that will bring us this greatest profit.
Psalm 32:8
I will instruct you and teach you in the way you should go; I will counsel you with my eye upon you.
Unsure which way to go?  God promises to instruct and teach you the way you should go.  And he will do this with his eye upon you, giving you his undivided attention.
Isaiah 30:20-21
And though the Lord give you the bread of adversity and the water of affliction, yet your Teacher will not hide himself anymore, but your eyes shall see your Teacher. And your ears shall hear a word behind you, saying, "This is the way, walk in it," when you turn to the right or when you turn to the left.
Not that God will supernaturally guide us in every decision.  Sometimes he will (Acts 16:9-10), and sometimes he won't (1 Thessalonians 2:18).
But whether he uses dreams, impressions, counsel from others, or hard thinking,  God will always give us all the wisdom we need.
Psalm 73:23-24
Nevertheless, I am continually with you; you hold my right hand.  You guide me with your counsel, and afterward you will receive me to glory.
Because Christ's death pays for our guilt, and Christ's righteousness covers our sin, the holy and righteous God can hold your right hand.  Constantly.  Right now.
And as he holds your hand, he will guide your every decision with his counsel.
Isaiah 48:12-14
Walk about Zion, go around her, number her towers, consider well her ramparts, go through her citadels, that you may tell the next generation that this is God, our God forever and ever. He will guide us forever.
He will guide us forever.  He promises.
Trust him.
Comments?  Feedback?
I'd love to hear them.  Leave a reply below — thanks.
If you know someone this would help, email it to them using the "share" button below.  Or use the other buttons to share it on your favorite social media.
If you would like to interact with others who are seeking to live by faith in Christ, visit our Forums page.
If you would like to receive a Saturday email summarizing the week's posts — subscribe here.  (I will only use your email address for Living By Faith Blog communications, and you can easily unsubscribe at any time.)
And here are some related posts you might find helpful –
(Picture is from Microsoft Publisher Clipart.)