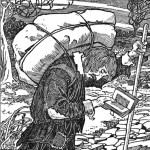 Can I Endure?
We all have times when we look ahead at real or imagined trials, and wonder —
Will I have the strength to keep trusting Christ?  
What if the trial is too much for me?  
What if I turn from Christ and lose my faith?
If, at these times, we don't know what God's Word teaches, we can be overwhelmed with fear and despair.
So what does God's Word teach?  Here are Scriptures I have found helpful —
Jude 1:24-25
At the end of his letter Jude speaks a word of praise to God —
Now to him who is able to keep you from stumbling and to present you blameless before the presence of his glory with great joy, to the only God, our Savior, through Jesus Christ our Lord, be glory, majesty, dominion, and authority, before all time and now and forever. Amen.
Notice that now, in this life, God is able to keep you from stumbling.  Which means that, at the Second Coming, God will present you blameless before him with great joy.
So whatever trial you face between now and heaven, God will be there — keeping you from stumbling, strengthening your faith, giving you all the hope and endurance and courage you need to keep trusting Christ.
Philippians 1:6
Notice what Paul says about the believers who lived in Philippi —
And I am sure of this, that he who began a good work in you will bring it to completion at the day of Jesus Christ.
Faith is a good work which God begins in us.  He takes out our hearts of stone, and gives us hearts of flesh which trust Christ and are saved (Ezekiel 36:26).
And the God who begins this work of faith in us promises to continue it and bring it to completion at the day of Jesus Christ.
So when you face faith-weakening trials, you can be confident that God will strengthen your faith and not let it fail.  And he will continue to do this until you enter heaven.
John Bunyan's Illustration
In his classic book The Pilgrim's Progress, John Bunyan gave a powerful illustration of this truth.
In chapter 5, Bunyan's central character, who is named "Christian," meets a helper named "Interpreter."  Interpreter's job is to teach Christian crucial truths he will need for the journey of faith.
Interpreter shows Christian a fire that is burning against a wall, and how someone was standing by the fire constantly trying to put the fire out by pouring water on it.
But the fire did not go out.  Not only did it not go out, it burned higher and hotter.
So Christian asks Interpreter — What does this mean?
Interpreter explained that the fire is the work of grace that God produces in our hearts — the grace of trust in Christ and love for him.
But the devil is constantly trying to put out this fire by pouring on it the water of temptations and worries and trials.
What Keeps The Fire Burning?
Then Interpreter wanted to show Christian how the fire not only kept burning, but kept burning higher and hotter.
So he took Christian around to the back side of the wall, where he saw a man who had a jar of oil in his hand which he poured continually into the fire.
So Christian asked again —  what does this mean?
And Interpreter answered —
This is Christ, who continually with the oil of his grace maintains the work already begun in the heart; by the means of which, notwithstanding what the Devil can do, the souls of his people prove gracious still. 2 Cor 12:9.
And in that thou sawest that the man stood behind the wall to maintain the fire; this is to teach thee that it is hard for the tempted to see how this work of grace is maintained in the soul.
See The Whole Picture
If all we see is the flame of our faith, and the water the Devil is pouring to put it out, we can easily despair and give up.
That's why it's crucial to see what Jesus is doing.  Now and for the rest of your life he will continue to pour into your flame all the oil you need — not just so your faith continues, but so it burns higher and hotter.
So see what Jesus is doing.  Trust what he is doing.
He won't let your flame go out.
Comments?  Questions?
I'd love to hear them.  Leave a reply below — thanks.
If you know someone this would help, email it to them using the "share" button below.  Or use the other buttons to share it on your favorite social media.
If you would like to interact with others who are seeking to live by faith in Christ, visit our Forums page.
If you would like to receive a Saturday email summarizing the week's posts — subscribe here.  (I will only use your email address for Living By Faith Blog communications, and you can easily unsubscribe at any time.)
And here are some related posts you might find helpful –