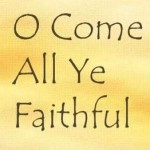 Christmas Busyness
Satan is smart.
He can't keep us from celebrating Christmas.  So he transforms Christmas from worship into busyness.
He has us fill our schedules with Christmas presents, Christmas parties, Christmas cards, Christmas musicals — so we are too busy or stressed or exhausted to worship Christ.
Fight Back
So we must resist.  We must take strong steps over these next weeks so this season is more Christ-centered than crazy.
Here are some suggestions —
Devote Extra Time To Seek The Lord
Why, too often, does the Christmas season mean spending less time with the Lord?
Jesus was born, and died, and rose again — "that he might bring us to God" (1 Peter 3:18).
So, this Christmas, honor Christ's reason for coming by devoting extra time to draw near to God.  Linger over passages focusing on Christ birth, like —
Isaiah's prophecy about the virgin birth and Jesus being God with us (Isaiah 7:14)
Isaiah's prophecy of a child being born and what names he will be called (Isaiah 9:1-7)
Micah's prophecy of where the Messiah would be born (Micah 5:2)
The Christmas story in Matthew (Matthew 1:18-25)
The Christmas story in Luke (Luke 1:1 – 2:21)
The Christmas story in John (John 1:1-14)
Paul's description of Jesus' birth (Philippians 2:5-11)
Fight Satan's Christmas Lies
Yes, he has custom-made Christmas lies, like — you have to spend more, you can't say No, you don't have time to meet the Lord.
And one lie Satan specially speaks to single people is that the joy of Christmas depends on having a special someone in your life.
The angels did bring good news of great joy.  But it had nothing to do with having a special someone.  It had everything to do with the birth of a Savior.
So fight Satan's Christmas lies with earnest prayer and God's promises.
Decorate Your Home In A Way That Magnifies Christ
Here's what we do in our home.  We don't do a lot with Santas and songs about Rudolf.
Instead, we fill our home with manger scenes — there's one in almost every room.  And we play songs that focus our hearts on the wonder of Christ's birth.
So think through how your home can point hearts towards Christ, the newborn King.
Plan Christ-Centered Family Devotional Times
Here are some of the things we did when our kids were home.
We had an advent candle wreath on our kitchen table.  Each Sunday we lit one of the candles and read the Christmas story or one of the Old Testament prophecies of Christ's birth.
Sometimes we turned off all the lights after dinner, and then one of the children would light a candle, while we read Isaiah 9 about how Jesus' birth brought light to a dark world.
We often read the Christmas story, and sometimes acted out the different parts together.
These things don't happen by accident.  So plan out how your family can be centered on Christ this Christmas.
Reach Out In Love
Christmas gives us wonderful opportunities to encourage believers and reach out to unbelievers —
On Christmas Eve or Day, invite people to your home who don't have family in the area.
Invite someone out for coffee, and strengthen each other in the Lord.
Think about neighbors who might be alone on Christmas, and invite them over.
Your small group could have a Christmas party and invite friends who don't know Christ.
Bake cookies for neighbors as a way to show love.
When you are standing in line shopping, tell people why you love Christmas.
Let This Worship Song Help
Let this Christmas worship song bring you to the manger, with joy and adoration —
httpv://www.youtube.com/watch?v=-JSF9Uz20PY
Comments?  Feedback?
I'd love to hear them.  Leave a reply below — thanks.
If you know someone this would help, email it to them using the "share" button below.  Or use the other buttons to share it on your favorite social media.
If you would like to interact with others who are seeking to live by faith in Christ, visit our Forums page.
If you would like to receive a Saturday email summarizing the week's posts — subscribe here.  (I will only use your email address for Living By Faith Blog communications, and you can easily unsubscribe at any time.)
And here are some related posts you might find helpful –