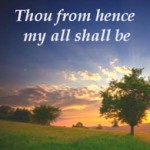 Could Not Sing
Sunday morning at Mercy Hill we sang "Jesus I My Cross Have Taken."
I started off fine.  But as the song progressed, and I saw the truth of the lyrics, I was so moved I could not sing.
Here are the truths that impacted me —
Jesus, I my cross have taken …
Thou from hence my All shalt be.
Following Jesus means saying to him —
I turn from everything else.  From now on I trust you as my All; my Everything.  All I need — all I want — is you.
Like Paul said — "I count everything as loss because of the surpassing worth of knowing Christ Jesus my Lord" (Philippians 3:8).
In Thy service, pain is pleasure;
With Thy favor, loss is gain.
How can pain be pleasure?  Only if the pain brings us something so pleasurable that it's worth the suffering.
That's what God promises.  When the path of serving Christ brings suffering, God promises to comfort us with his favor (2 Corinthians 1:3-4).  He will sustain us with his nearness, his love, his glory.
His favor is so pleasurable that loss becomes gain.
Storms may howl, and clouds may gather,
All must work for good to me.
These words are not about literal storms or clouds.  They are about the trials we face.  So why "must" storms and clouds — trials — work for good to me?
Because the Sovereign God has commanded it.  He commands every trial to work for your good, and they all must obey his command (Genesis 50:20; Romans 8:28).
So every trial you face is obeying God's command.  It is working for good to you.
Think what Spirit dwells within thee,
What a Father's smile is thine,
What a Savior died to win thee;
Child of heaven, shouldst thou repine?
To repine means to grumble.  When we grumble it's because we are not seeing the Father, the Son, and the Spirit.
So ask God to forgive your grumbling, and enable you — once again — to see.
And then preach to yourself the truth of —
the precious third person of the Trinity, God the Spirit, dwelling in you
God the Father smiling on you with deep affection, infinite compassion, perfect strength
the Savior, God the Son, fully God and fully man, who died to win you
When, by the Spirit's work, you see and feel these truths — grumbling and repining will scurry away like cockroaches fleeing the light.
Soon shall close the earthly mission,
Swift shall pass thy pilgrim days,
Hope soon change to glad fruition,
Faith to sight, and prayer to praise.
Now we are on mission — at war to save people from Satan's kingdom.
And another picture — we are pilgrims, traveling to the City that is to come, laboring to keep each other on the path, and urging others to join us.
This is not easy.  There are trials, tears, disappointments, suffering.  We live in hope, faith, and prayer.
But our destiny is certain — fruition, sight, and praise.
Be encouraged.
httpv://www.youtube.com/watch?v=Zkz5vreZ65U
How Did This Song Impact You?
I'd love to hear.  Leave a reply below — thanks.
If you know someone this would help, email it to them using the "share" button below.  Or use the other buttons to share it on your favorite social media.
If you would like to interact with others who are seeking to live by faith in Christ, visit our Forums page.
If you would like to receive a Saturday email summarizing the week's posts — subscribe here.  (I will only use your email address for Living By Faith Blog communications, and you can easily unsubscribe at any time.)
And here are some related posts you might find helpful –