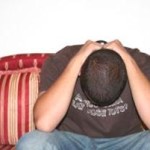 Another Battle With Discouragement?
Yes.  This morning I woke up feeling pretty low.
I know.  You'd think that after all these battles, and writing all these blog posts, I'd be over this.  But I'm not.
And I'm committed to sharing my battles honestly, in hopes that it will help you fight the fight of faith.
So here goes —
What's In My Heart
Here is what is discouraging me —
I've been sick for 13 days (yes, I'm counting).  It's just a cold or flu; not as serious as what some of you face.  But I thought I was over it, only to have a relapse last night, which I'm still feeling this morning.
One of our church leaders might be called to a ministry that would take him from our church.  I should be willing to send him away, since the Commander knows best where his troops are needed.  But this morning I'm feeling only fear.
The fact that I'm feeling fear about this church leader shows that I am not trusting the Commander.  You'd think that by now I'd have more faith.  But I don't.  And that's discouraging.
I submitted a guest post to another blog and they decided not to use it.  This is not the first time, but it's discouraging me.
So here I am, Wednesday morning, at my desk with my morning tea and a discouraged heart.  What can I do?
Seek God
There are things I could do besides seek God.  I could beat myself up — why do you get discouraged so often?
I could ignore my discouragement, just read my assigned Bible passages and pray through my prayer list, and get on with my day.  But that would be a lie.
I could wallow in discouragement, and enjoy the tiny pleasures of self-pity.  But that would dishonor Christ and compound my sin.
I could try to change my heart with non-God-centered approaches — like looking on the bright side, thinking of how others have it worse off than me, persuading myself that it will all work out.  That might temporarily change my feelings, but it would ignore my sinful unbelief.

So I'm going to seek God.  Where should I start?
By Praying
Father, this morning I'm full of discouragement.  Which shows I'm not trusting you.  Please forgive me through your holy Son, Jesus.  
Thank you that he paid for the guilt of this sin.  Thank you that he broke the power of this sin.  Thank you that your Spirit can overcome this sin.
Please, Father, by the Spirit's power use your Word to crush my unbelief.  Open my eyes to see you, trust you, love you, and worship you.
The Word
My faith is weak, but faith comes by hearing the word of Christ (Romans 10:17).  So my next step is to prayerfully read God's Word, asking for more of the Spirit's work to strengthen my faith.
I use a Bible-reading calendar that gives me four readings each day.  And my first reading is —
Jeremiah 19-22
Jeremiah says that since Israel turned from God to worship idols, God will break her as someone might break a clay jar.
This is helping me see what's going on in my heart.  The root issue is that I have turned from God to idols of health, church leaders, spiritual growth, and blog publishing.
Not that there's anything wrong with health, church leaders, spiritual growth, or blog publishing.
But what's wrong is relying on them for my joy.  That's idolatry.  That's blasphemy.  That's sin.
That strengthens my desire to fight.
Ecclesiastes 7:1-14
This was good to read, but did not do a lot to help me battle.
John 3:16-21
For God so loved the world, that he gave his only Son (John 3:16).
How much does God love me, and you?  So much that he gave his only Son to be slaughtered for us on the Cross.
So in all these trials — God loves me.  Which means that everything I'm discouraged about is a gift from God's love — given to bring me more joy in Him.
Being sick can humble me so I rely more consciously on God.
The possibility of losing a leader can increase my dependence on God.
Seeing my unbelief can humble me with how desperately I need God's grace.
Not having a blog post published can show how quickly this becomes an idol, and how earnestly I must battle pride.
These are all gifts, planned for me by God's love, and given to me by God's love, to bring me closer to God, who is the greatest joy in the Universe.
Now I'm starting to feel my heart change.
James 4:11-17
Is God really sovereign over the details of my life — like how many days I am sick, or whether a post is published or not?
James would say Yes —
Instead, you ought to say, "If the Lord wills, we will live and do this or that." (James 4:15)
So God is sovereign over whether I am sick for day 13, whether a church leader is called out of the area, whether I wake up discouraged, and whether a blog post is published.
There's mystery here.  But the mystery does not change what James says.  God is sovereign over everything in my life.
So this strengthens even more what I saw in John 3:16 — that all of these trials are part of God's love.  None of them are random or without meaning.  My Father has lovingly and sovereignly planned each of them in order to draw me closer to him.
So I'm seeking to submit to His loving and sovereign will in each of these areas, and say —
Yes, Lord.  I trust you.
Heart-Change
I don't want to overstate it.  It's not exactly joy unspeakable and full of glory (1 Peter 1:8).
But my heart has changed.  I'm feeling peaceful, encouraged, and content.
I'm no longer seeing just health, leaders, spiritual attainment, or publication.  I'm seeing God — his love, his sovereignty, his promises.
And that changes everything.
Comments?  Feedback?
I'd love to hear them.  Leave a reply below — thanks.
If you know someone this would help, email it to them using the "share" button below.  Or use the other buttons to share it on your favorite social media.
If you would like to interact with others who are seeking to live by faith in Christ, visit our Forums page.
If you would like to receive a Saturday email summarizing the week's posts — subscribe here.  (I will only use your email address for Living By Faith Blog communications, and you can easily unsubscribe at any time.)
And here are some related posts you might find helpful –
(Picture is from everystockphoto by naktouf.)