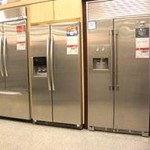 Buying A Refrigerator  
Our 24-year old refrigerator is dying.  The ice cream in the freezer melts, the lettuce in the produce bin freezes — you get the picture.
We've tried everything, but it's clearly time to say good-bye.
My wife found an ad for a decent refrigerator at Sears — at half price.  So Tuesday night we checked it out.
It looked good.  It fit the space in our kitchen.  The doors opened in the right direction.  And it was on sale until Saturday.  So we decided to go home, Google some reviews, and make a final decision.
Sold Out
But the week was busy.  Wednesday was full of meetings.  Thursday was impossible.  But Thursday night I did have time to check the reviews, and they looked great.
So first thing Friday morning my wife went back to Sears to finalize the purchase.  But 30 minutes later she texted me — "Fridge all sold out, even the floor model."
Aargh!  
I know, I know — this is a pretty small trial.  But I hate shopping.  I didn't want to go through this all over again.
I had visions of my eyes glazing over while listening to refrigerator salesmen and having to end up spending a bunch more money, when all this could have been avoided if there would have just been ONE MORE REFRIGERATOR AVAILABLE!
So I was frustrated.  Grumbling.  Sinking fast.
Not Trusting God
But then, by God's grace, I saw what was going on.  I'm not trusting God.  I'm not seeing God.  I'm not even thinking about God.
And I could tell — I needed to fight the fight of faith.
So I turned to God, and asked for help.  I confessed my unbelief, and asked for forgiveness through Christ.  And I was assured of God's forgiveness, and knew help was coming.
Then, to fight my unbelief and strengthen my faith, I thought I'd remind myself what God promises about trials.
So I started with —
God Is Sovereign Over Trials
A young man in our home group has found much strength in Ephesians 1:11 —
[God] works all things according to the counsel of his will.
Note the words "all things."  Which means everything.  Everything that happens is ultimately purposed by God's will.
Even trials?  Even trials.  That's what Job said after his trials —
The Lord gave, and the Lord has taken away; blessed be the name of the Lord. (Job 1:21)
So I reminded myself that the perfectly loving and infinitely wise God chose to have all those refrigerators be sold out.
But then I asked — Why?  Why would he choose to do that?
And I remembered this promise —
Those Who Seek The Lord Lack No Good Thing
That's from Psalm 34:10 —
The young lions suffer want and hunger; but those who seek the LORD lack no good thing.
So what does that mean?  This is where I needed to dig deeper.
Because I could cheer myself up by thinking this means God will give us a better refrigerator than the one that was sold out.  And of course, God could do that.  And we can pray that he would do that.
But nowhere in the Bible does God promise to do that.  Nowhere does God promise ever-improving circumstances in this life.
So what does God mean when he promises that I will lack no good thing?  What helped me was to remember Psalm 73:28 — "for me it is good to be near God."
My highest good is not convenient shopping or an amazing deal on a refrigerator.  My highest good is experiencing God's nearness.  Fellowship with God, beholding God, worshiping God — that is my greatest, most satisfying good (see Psalm 73:25).
Since God is my greatest good, anything is good if it brings me more of God.
And that's how sold-out refrigerators could mean I lacked no good thing.  It's because God's purpose was to use that trial to bring me more joy in him.
Not Automatic
But that joy doesn't happen automatically.  It happens as we submit our will, our wisdom, and our plans to the Lord and seek our joy in him alone.
So I asked him to help me do that.  And I prayed something like this —
Forgive me for grumbling, Father.  Forgive me for thinking I know better.  You are infinitely wiser than me.  I trust that you had these refrigerators be sold out in order to bring me the greatest good of more nearness with you.  So — thank you.
I turn from the joys of having more time, the joys of spending less money, the joys of a sweet half-off refrigerator — and I seek my joy in you alone.  You are my all-satisfying Treasure.
And — I pray that you would bring us an even better refrigerator — quickly — and without it taking much time.
I wasn't doing cartwheels yet.  But I was at peace.  My faith was strengthened.  I was content — in him.
Comments?  Feedback?
I'd love to hear them.  Leave a reply below — thanks.
If you know someone this would help, email it to them using the "share" button below.  Or use the other buttons to share it on your favorite social media.
If you would like to interact with others who are seeking to live by faith in Christ, visit our Forums page.
If you would like to receive a Saturday email summarizing the week's posts — subscribe here.  (I will only use your email address for Living By Faith Blog communications, and you can easily unsubscribe at any time.)
And here are some related posts you might find helpful –
(Picture is from Wikepedia and is in the public domain.)