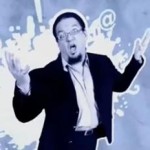 Who Is Penn Jillette?
Penn Jillette is a professional Las Vegas magician and outspoken atheist.
In this video he describes how someone came up to him after a show, introduced himself, engaged in conversation, and then gave him a Bible.
You'd think Penn Jillette would laugh — ignore him — not care.
That's not what happened.
Watch the 5-minute video —
httpv://www.youtube.com/watch?v=6md638smQd8
My Take-Aways
This is so simple — a humble, loving businessman cares enough to talk with Penn Jillette and give him a Bible.  Any of us could do this with anyone we know.
Penn Jillette was deeply impacted by this man.  He said: This guy was a really good guy.  He looked me right in the eyes.  He was polite, and honest, and sane.  And he cared enough about me to give me a Bible.  He was a good man.  He was a very, very, very good man.
Penn Jillette respects those who humbly seek to convert others.  He says — if I knew a truck was going to run you over, and you didn't believe it — I'd tackle you.  And eternal life is much more important.  (Not that we tackle people.  But you get the point.)
He asks a convicting question — if you believe in heaven and hell, how much do you have to hate somebody to not tell them?
I don't need to have a long-term relationship with someone in order to share the Gospel.  If I have genuine love and humility, I can tell anyone about Jesus Christ.  That's what Paul did — he went to the marketplace and talked to whoever happened to be there (Acts 17:17).
Thoughts?  Comments?  Feedback?
I'd love to hear them.  Leave a reply below — thanks.
If you know someone who would be helped by reading this, email it to them using the "share" button below.  Or use the other buttons to share it on your favorite social media.
If you would like to interact with others who are seeking to live by faith in Christ, visit our Forums page.
If you would like to receive a Saturday email summarizing the week's posts — subscribe here.  (I will only use your email address for Living By Faith Blog communications, and you can easily unsubscribe at any time.)
And here are some related posts you might find helpful –