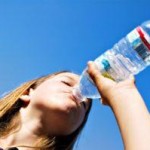 What if I Do Not Experience the Holy Spirit?
The baptism of the Spirit  is a supernatural experience occurring at conversion in which the Holy Spirit enables us to see and feel Jesus' glory so much that our hearts are overflowingly satisfied in Him.  (You can read why I say this in posts one, two, and three on the baptism of the Spirit.)
This is different from the historic Pentecostal view, which says the baptism of the Spirit occurs after conversion and is marked by speaking in tongues.
It is also different from those who say we receive the Spirit at conversion whether we experience anything or not.
But what if you are trusting Christ and not not experienced this baptism?
Where to Start
Start with Jesus' promise —
If anyone thirsts, let him come to me and drink.  Whoever believes in me, as the Scripture has said, 'Out of his heart will flow rivers of living water.  Now this he said about the Spirit, whom those who believed in him were to receive, for as yet the Spirit had not been given, because Jesus was not yet glorified.  (John 7:37-38)
Why had the Spirit not yet been given?  It's because Jesus had not yet been glorified in the Cross.  But after the Cross, on the day of Pentecost, Jesus poured out his Spirit.  So since we live after the Cross and Pentecost, the Spirit is given to us when we first believe.
And what does it mean to receive the Spirit?  It means having the Spirit help us see and feel Jesus' glory so much that our heart-thirsts are overflowingly satisfied in him (John 16:14; 2Co 3:18).
And Jesus promises this to everyone who believes in him.
But what if you believe in Christ and have not experienced this?  Here are some possibilities —
Maybe You Are Not Trusting Christ
Don't be offended.  But this is where we have to start, because Jesus promises the Spirit to all who believe.
So is it possible that you do not genuinely believe?
Throughout Junior High I often prayed to trust Christ, asking him to forgive my sins.  But I felt no heart-satisfaction in Christ.
That changed in High School, when I saw that faith also meant turning from everything else I was trusting to satisfy me, and trusting Jesus Christ as my all-satisfying Treasure.  When I did that, I was baptized with the Spirit.  I saw and felt the glory of Jesus Christ, and this filled me with joy and praise and love.
So ask yourself — have you ever turned from everything else you were trusting to satisfy you, and trusted Jesus Christ as your all-satisfying Treasure?  If not, do so right now.
Come to him as you are.  Confess your sin, and what you have trusted for satisfaction besides him.
Trust his death to forgive and cleanse you.  Trust his power to change your heart.  Ask him to pour his Spirit upon you so you are fully satisfied in him.
As you look to Jesus Christ, and trust him, he will baptize you with his Spirit.
He promises.
Maybe You Have Wrong Expectations
Maybe you do genuinely trust Christ, and the Spirit has helped you see and feel the glory of Jesus so much that you have been overflowingly satisfied.
But maybe you've known people so filled with the Spirit that they prayed all night, were overcome with weeping, or spoke in tongues.
And since these have not happened to you, you think you have not experienced the Spirit.
I've got good news.  You have.
The Bible does not say every believer will stay up all night praying, be overcome with weeping, or speak in tongues.  But the Bible does say every believer will see Jesus' glory (2Co 3:18), and have their heart-thirsts satisfied with living water (John 4:13-14).
So — since you've experienced that, you have experienced the Spirit.  Make sense?  Good.
Maybe You Are Focusing Too Much On Feelings
I need to be careful here.  This could be misunderstood, because the baptism of the Spirit will affect our feelings.  Big time.
But the Spirit is not given to those who look at their feelings.  The Spirit is given to those who look to Jesus.
If you want your heart to be captivated by the Grand Canyon, don't look at your heart.  Look at the Grand Canyon.
In the same way, look at Jesus Christ.  Set your heart on Scriptures describing his love, majesty, and goodness.  Look at Jesus, and trust Him.  Ask for the Spirit to help you see and feel Jesus' glory.  God always answers that prayer (Luke 11:13).
Maybe You Did Not Hear About The Spirit
I'm not as sure about this one.  But I'll mention it in case it might help.
In Acts 19 Paul met disciples of John the Baptist who had not received the Spirit, because they had not heard about the Spirit, and had only experienced John's baptism (Acts 19:2-3).
So Paul taught them, baptized them in Jesus' name, and they received the Holy Spirit.
Could it be that when you were led to Christ you did not hear about the Holy Spirit, and so the Spirit's work was quenched?  Maybe you were not told about the Spirit's work, or you heard that salvation had nothing to do with feelings.  And so when you prayed to trust Christ you did not ask or trust him to baptize you with the Spirit.
So what should you do?  Study what the Bible teaches about the baptism of the Spirit.  Trust and ask Jesus to pour his Spirit upon you.  And prayerfully set your heart on Jesus as revealed in God's Word until the Spirit helps you see and feel Christ's glory.  He will.
How Important Is This?
Look at how Jesus preached the Gospel to the woman at the well —
If you knew the gift of God, and who it is that is saying to you, "Give me a drink," you would have asked him and he would have given you living water. (John 4:10)
The baptism of the Spirit is not some side issue.  It's the point of evangelism.  It's the goal of the Gospel.
So if you have not experienced this — ask him. 
And if you have — ask for more.
Questions?  Comments?
I'd love to hear them.  Leave a reply below — thanks.
If you know someone who would be helped by reading this, email it to them using the "share" button below.  Or use the other buttons to share it on your favorite social media.
If you would like to interact with others who are seeking to live by faith in Christ, visit our Forums page.
If you would like to receive a Saturday email summarizing the week's posts — subscribe here.  (I will only use your email address for Living By Faith Blog communications, and you can easily unsubscribe at any time.)
And here are some related posts you might find helpful –
(Picture is from everystockphoto by criswatk.)