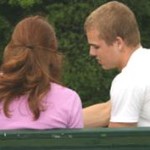 How Far Is Too Far Before Marriage?
Let's say you agree with my previous post — that with great love Jesus looks at you and says:
Trust me.  I love you.  Don't have sex before marriage.
But that raises the question — what counts as having sex?  Before you are married, how much sexual involvement is too much?
God's Idea

It's good to remember that sex is God's idea.  He created us with bodies that can give and receive sexual pleasure in a way that builds deep closeness, pleasure, and fun into a marriage.
So when a married couple enjoy sex together, seeing it as a gift of God's mercy, and pursuing it as a way to serve each other — God is happy.
But What About Before Marriage?
We saw that God does not want us to have sex before marriage.  But what exactly does that mean?
What does God want an engaged couple to do — or not do?
Flee From Sexual Immorality
That's what God's Word teaches (1Co 6:18).  And we saw that Greek dictionaries define sexual immorality as sexual intercourse outside marriage.
But the point of the Greek dictionaries is not that outside marriage everything except sexual intercourse is permitted,  Surely Paul would not say it's OK for a married man to be sexually involved with someone not his wife as long as they don't actually have intercourse.
So the Greek word "sexual immorality" covers more than just sexual intercourse.  But where should an engaged couple draw the line?
Two Kinds of Activity
It's helpful to distinguish activity which expresses affectionate love (like holding hands), from activity which involves sexual desire (like extensive kissing).
Affectionate love is content to enjoy the closeness.  But sexual desire is different.
God created us in such a way that sexual desire naturally wants more — moving from one stage to the next, creating stronger and stronger desires, greater and greater pleasures, until it is satisfied in orgasm.
This is a great gift to marriage, as together you enjoy this excitement and pleasure, with the closeness and bonding it brings.
But what if you are not married, and are committed to not having sex?  In that case, if you start to experience sexual pleasure together, you will want more, and will experience the frustration of needing to stop a process that — within marriage — God intended to continue.
A Better Way
So if you are engaged, why not commit to avoiding those actions that stir up sexual desire?  Men, you will need to take the lead in establishing these boundaries since, generally speaking, you experience sexual desire sooner than women.
But why not avoid anything that stirs up sexual desire, and focus instead on building each other's faith, getting to know each other's personality, and expressing affection in ways that don't stir up sexual desire?
Yes, that would take discipline.  But it would take much less discipline than stopping sexual desire once it starts.
A Burning Fuse
Picture sexual activity like a fuse leading to dynamite which, once it is lit, burns more and more intensely and becomes harder and harder to put out.
If you are married, this dynamite can bring great good — love and closeness and intimacy.
But if you are not married, this dynamite can bring great harm — sin before God, and the pain of more closeness than your commitment to each other warrants.
So if you are not married, and don't want the dynamite to explode — why light the fuse?
New Beginnings
What if you are engaged and have become too involved sexually — what can you do?
Here's steps I would encourage —
Pray over promises showing that God's grace will forgive, change, free, and help you — like 1Jo 1:9; Luke 18:27; 1Co 6:9-11; 2Cor 5:17.
Bring this to God, and confess it and fight the fight of faith until you experience assurance of forgiveness.
Pray over promises in God's Word until, by the work of the Spirit, you see and feel Christ as your greatest Treasure — greater than sexual pleasure, greater than your fiance or fiancee — promises like Phil 3:8; Matt 13:44; Psa 73:25-26; Psa 16:11; John 6:35.
Pray and ask God to transform you and your relationship with your fiance or fiancee.
Share all of this with your fiance or fiancee.  Encourage them to take the above steps.  Talk together and decide about changes you can make.  Commit before the Lord to a new path, and ask for His grace to enable you.  He will.
Feedback?  Comments?  Thoughts?
I'd love to hear them.  Leave a reply below — thanks.
If you know someone who would be helped by this, email it to them using the "share" button below.  Or use the other buttons to share it on your favorite social media.
If you would like to meet and interact with others who are living by faith, visit our Forums page.
If you would like to receive a Saturday email summarizing the week's posts — subscribe here.  (I will only use your email address for Living By Faith Blog communications — and you can easily unsubscribe at any time.)
And here are some related posts you might find helpful —
(Picture is from everystockphoto.com by taliesin.)