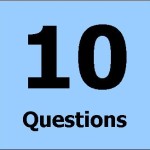 1. How do I live the Christian life?
For too long I thought the Christian life started by faith but then continued by will-power.  So if I was worried, I'd try hard to feel peace.  If I was prayerless, I'd try hard to pray.  At best this produced only shallow and temporary change.  But then God helped me see that the Christian life starts and continues by faith in Christ (Gal 2:20; John 6:29; Col 2:6; Gal 3:2-5).
2. How can the whole Christian life be lived by faith?
It's because God promises to give us everything we need through faith alone in Christ alone, including the work of the Spirit (Gal 3:5), joy (Psa 13:5), peace (Isa 26:3), love for others (Gal 5:6), obedience (Heb 11:8), and power over sin (1John 5:4).  So not only are we justified by faith alone.  Everything in the Christian life comes to us by faith alone in Christ alone.
3. Why am I not experiencing this?
If that's what God promises, why wasn't my faith producing joy, peace, love, and obedience?  It's because there was a problem with my faith.  I wrongly thought faith just meant agreeing to biblical truth, or trusting Christ to forgive and justify me.  Both of these are essential — but they are not enough.  Biblical faith means trusting all that God promises to be to me in Christ Jesus (James 2:19; Isa 31:1; 2Cor 1:20; Prov 3:5-6).
4. What does God promise?
The heart of God's promise is that in Christ He will be my heart-satisfying Treasure (John 4:13-14; John 6:35; John 7:37-38; Psa 73:25-26; Psa 16:11) .  Every other promise is a means to this end, including His promises concerning forgiveness (1Pet 3:18), perseverance (Jer 32:40), rewards (Heb 11:6), trials (2Cor 4:16-18), resurrection (John 11:25-26), wisdom (James 1:5), strength (Phil 4:13), fruitfulness (John 15:5), and financial provision (Mat 6:33).
5. What does it mean that Christ is my heart-satisfying Treasure?
The heart-satisfaction God offers in Christ is not just a truth I believe — it is a felt reality I can experience (Psa 4:6-7; John 6:35).  We are wired to find our highest joy in beholding glory (think of Yosemite and the Grand Canyon).  And Jesus is supremely glorious (John 1:14; 2Cor 3:18; 2Cor 4:6; Phil 3:8).  So as we pray, trust Christ, and meditate on His Word we will have times where we experience joy unspeakable and full of glory (1Pet 1:8).  This is what is meant by fighting the fight of faith.
6. Isn't there a danger of relying too much on feelings?
Yes.  I should not rely on my feelings, but on God's Word (Psa 42:5; Psa 40:1-3).  But God promises to give me times when I feel Jesus' glory so much that I overflow with joy (1Pet 1:8; John 15:11).  So I should not rely on feelings, but I should not settle for no feelings.
7. How can I experience Christ as my heart-satisfying Treasure?
This comes by faith alone in Christ alone (John 6:35; John 7:37-38; 1Pet 1:8).  I turn to God just as I am, being honest about the state of my heart (Luke 18:13-14).  I confess sin, trusting Christ's blood and righteousness to forgive me and make me acceptable to a holy God (1John 1:9; Phil 3:9).  I plead for the Spirit's work to change my heart and help me see and feel Jesus' glory (Luke 11:13; Psa 13:3; Psa 43:3).  And then I pray over specific verses describing the Father and the Son until I see and feel God's all-satisfying glory as revealed in Christ (Psa 4:6-7; Psa 16:11; Phil 3:8).
8. How does faith produce joy, peace, and heart-felt obedience?
Whatever I trust the most to satisfy me, I desire the most (Lam 3:24); and whatever I desire the most, I obey (Mat 13:44).  For example, I used to trust surfing to satisfy me.  So I desired surfing, felt joy and peace when I could surf, and gladly turned from the lesser pleasures of Saturday morning TV so I could surf.  Same with Christ.
9. What if I am weak in joy, peace, or heart-felt obedience?
When this happens, the problem is not lack of will-power.  It's lack of faith.  Since faith produces joy, peace, and obedience (Psa 13:5; Isa 26:3; Heb 11:8), then when I'm lacking these, there's a problem with my faith.  I'm either doubting one of God's promsies, or I'm trusting something else as my all-satisfying Treasure.  This is the root problem.  But the good news is that when I turn to God through Christ, pray earnestly, and fight to trust His promises, the Spirit will always change my heart, strengthen my faith, and fill me with joy in Christ as my Treasure (Psa 40:1-3 is an encouraging example).
10. What motivates the Christian life?
When we study God's Word and ask "How does God motivate our obedience?", what we find is promise after promise of reward.  And the reward is the joy of beholding Christ's glory now and forever (Mat 5:8; Heb 12:14; Luke 14:12-14; Mat 13:44; Heb 11: 24-26).  This joy is secured for us by Christ (Eph 1:3-6).  It is given through faith alone (John 7:37-38).  And God promises that the more I trust Him — the more reward I will have now and forever (John 14:21; 1Cor 9:24-25; 1Cor 3:14-15).  So the way I live today can increase my joy in Christ forever.  That changes everything.
How Did This Impact You?
I'd love to hear.  Leave a reply below — thanks.
If you know someone who would be helped by this — email it to them using the "share" button below.  Or use the other buttons to share it on your favorite social media.
If you would like to meet and interact with others who are living by faith, visit our Forums page.
If you would like to receive a Saturday email summarizing the week's posts — subscribe here.  (I will only use your email address for Living By Faith Blog communications — and you can easily unsubscribe at any time).
And here are some related posts you might find helpful —