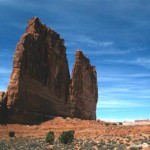 Christ the Solid Rock
We are always living by faith in something.
We are always building our lives on something which we think will secure a satisfying future for us.
So how can we tell what we are building on?
What helps me is to look at what I desire the most — fear losing the most — obey the most.
When I ask these questions I see that too often what I build on is —
impressing other people
financial security
having good health
entertainment
So — what's wrong with these?
They are all sinking sand
They can't fully satisfy me now.
They can't secure my satisfaction in the future.
But there's good news —
There is a solid rock
Jesus Christ.
He is the rock that lasts forever and satisfies fully.
His blood and righteousness — accessed by faith alone — free me from God's wrath and secure for me God's love forever.
His unchanging grace is constant — loving me, caring for me, doing everything necessary to bring me the joy of beholding Him forever.
His oath and His covenant are rock-solid secure — to keep me persevering in the faith, and to use every trial to bring me even closer to Him.
So —
How can I build on Christ?
By faith alone.
By turning from whatever else I'm trusting to satisfy me — and turning to Him.
By coming to Him as I am — weak, needy, sinful.
By confessing my sins and receiving assurance of complete forgiveness.
By asking for the Spirit's work to strengthen my faith and change my heart.
By setting my heart on His promises so my faith is strengthened and my heart is changed.
By trusting Him as my all-satisfying Treasure — and pursuing Him as my all-satisfying Treasure.
Christ the Solid Rock
Use this song as a way to build on Christ today — and let me know how God uses it in your heart.
httpv://www.youtube.com/watch?v=akOZaB-7ALQ
How did God use this song in your heart?
I'd love to hear — leave a reply below.  Thanks.
Do you know someone who would be helped by this song?  Email it to them using the "share" button below.
If you would like to receive a Saturday email summarizing the week's posts — subscribe here.  (I will only use your email address for Living By Faith Blog communications — and you can easily unsubscribe at any time.)
And here's some related links you might find helpful —
(Picture is from Microsoft Publisher.)